The new Canadian Museum for Human Rights gives Winnipeg serious architectural street cred
Photos. Aaron Cohen/CMHR-MCDP
Copy. Angus MacKenzie
Winnipeg, the architectural hotbed of the prairies is a phrase generally not ever used. Not many in Canada, let alone The 'Pegg, consider the landlocked city of frozen influences and seagull-sized mosquitoes an architectural destination. The new Canadian Museum for Human Rights hopes to change that stereotype.
Opened just this past September 'The Canadian Museum for Human Rights' (CMHR), the first national museum to be built outside Ottawa since 1967, ended up in Winnipeg because of the city's human rights legacy. That legacy includes the infamous 1919 Winnipeg General strike, Nellie McClung's fight for women's right to vote and the rights struggle of Indigenous Peoples.
Although the museum is a Canadian project with a focus on country-centric issues, its mandate is international in scope. "To explore the subject of human rights with special, but not exclusive, reference to Canada, in order to enhance the public's understanding of human rights, to promote respect for others and to encourage reflection and dialogue."
That global mandate can be seen throughout the museum's galleries and exhibits. Scattered over seven levels along the site's rising walkways, visitors are exposed to eleven key human rights related exhibits.
"The CMHR is the world's only museum solely dedicated to exploring the concept of human rights as a force for positive change. Unlike many other museums, it is not based around a collection of artifacts, nor designed to memorialize victims or commemorate events. Instead, it illuminates a powerful idea"
"What are Human Rights", "Indigenous Perspectives" and "Canadian Journeys" on Level 2 start out the human rights experience. The latter, the largest in the museum, explores dozens of Canadian related human rights stories via a 29 meter digital screen.
On Level 3, the "Protecting Rights in Canada" exhibit uses visual imagery in the form of a living digital tree as a metaphor to communicate Canada's continually evolving laws and rights.
Moving up to Level 4 things get heavy with "Examining the Holocaust." This gallery demonstrates and discusses how human rights can be violated under authoritarian rule and how to prevent genocides before they happen. Breaking the Silence, Turning Points for Humanity and Actions Count are also part of the fourth floor experience.
The "Rights Today" exhibit on Level 5 explores current day issues whereas "Expressions" on Level 6, a changeable gallery, features a diverse range of temporary exhibits focused on the many aspects of human rights. "Inspiring Change" on Level 7 is designed as a self reflective exhibit with the intent of asking visitors how they can bring about positive change. The gallery features objects and imagery acquired from human rights related events.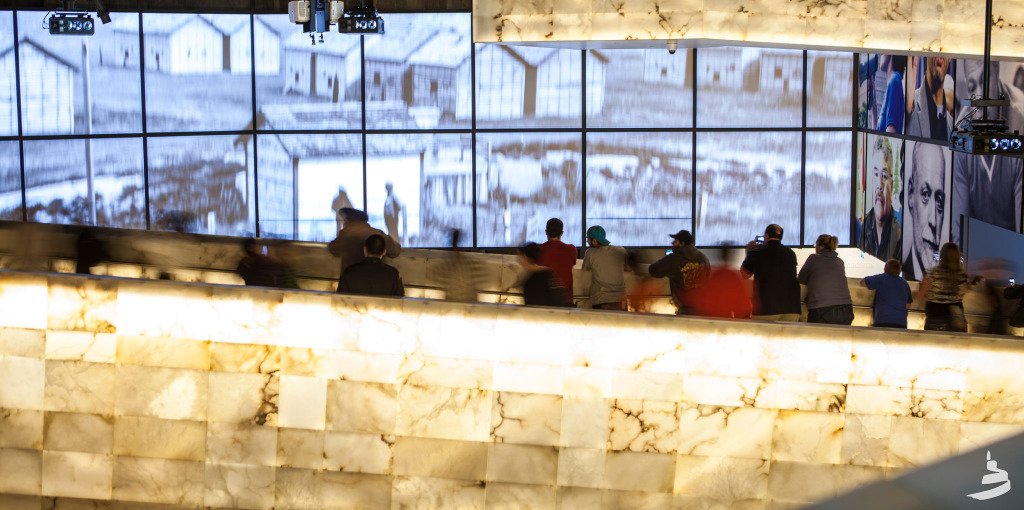 But while the exhibit itself educates and pays homage to the history and future of human rights, it is the structure's architectural presence that stands out as enigmatically original on the city's skyline.
Designed by American architect Antoine Predock, the building's Guggenheim-esque shape borrowed visual inspiration from great Canadian stuff like our mountains, clouds, prairie grasses and of course the Winnipeg favourite – ice and snow. At a distance the overlapping, illuminated glass shells give the impression of a morphing sphere.
The 100 meter 'Tower of Hope' spire jutting out the top only adds to the Dr. Evil lair type ambience.
Inside visitors are directed upwards through the space along 1,000 meters of rising, illuminated Spanish alabaster ramps. Bringing natural light into the space is accomplished by an enormous "glass cloud" that wraps around the museum's northern face. In total, over 175,000 individually cut pieces of basalt, limestone and alabaster populate the museum.
The building itself rests on four huge stone roots that represent humans as children of the Earth. Three of the roots are covered with 2,867 meters of green roof materials and indigenous Prairie tall-grasses. The fourth root forms the site's outdoor amphitheatre.
The site located on culturally significant First Nations Treaty One land and homeland to my Métis people, meant extensive archaeological work prior to construction. In total over 400,000 artifacts were recovered from the site. Aboriginal elders participated in discussions about the dig and the treatment of artifacts, and traditional medicine bags were deposited in over 500 holes drilled for the piles.
At a cost of CDN$351 million, the building's total area of 24,155 square meters required some 1,300 individual pieces of glazing to skin the exterior and roughly 35,000 tonnes of concrete to complete. The museum meets LEED Silver certification and is tagged as a high-performance green building.
CMHR TRIVIA
• The first new national museum built in Canada since 1967.
• The first national museum to be established outside the National Capital Region.
• The 24,000-square-foot building is the same size as the world-famous Guggenheim Bilbao.
• Rests on four massive stone "roots" covered with 2,867 metres of green roofs consisting of Prairie tall grass, topped by a glowing "Tower of Hope" rising 100 metres above the city.
• Contains more than 175,000 individually cut pieces of basalt, alabaster and limestone.
• Eleven galleries are housed within a "mountain" of 400 million-year-old limestone, surrounded by a glass "cloud" of 1,300 panes – no two exactly the same.
• Visitors travel through galleries along 800 metres of glowing ramps clad in Spanish alabaster – a literal path of light through the darkness.
• An interior "Garden of Contemplation" built entirely of basalt rock with pools of water and greenery was inspired by Northern Ireland's "Giant's Causeway".
• Home to 300 objects and artworks.
• Features seven theatres, an immersive multimedia experience, a 360-degree film, and two soundscapes.
• Contains 100 hours of video, three feature films, 26 small format films, 512 video clips, 2,500 images, 37 large-scale projections, 19 digital interactive elements and 100,000 words of original text.
• The grounds, planted with 15 species of Prairie grass, create the largest urban installation of natural, original vegetation in Canada – remarkable for an inner-city location.
• The first major project in Canada to use virtual reality construction design across all contractor groups.
• The most inclusive design in Canadian history, setting new Canadian and world standards for universal accessibility, and surpassing Smithsonian standards.
• The $351-million project is a unique example of private-public collaboration.
Source: Canadian Museum for Human Rights