450HP BAJA-BUSTER in a BOX! Ford's all new 2017 Raptor lives on a diet of Prius entrails & dune pops
Photos/ Video / Words. Angus MacKenzie
With the exception of tiny forearms, Ford's all new aluminum-bodied 450 HP Baja-buster, the 2017 Ford Raptor, is almost identical in personality to its two-legged Jurassic era critter. It feeds on Prius entrails and hipsters named Chase, disposes of punishing off-road sections like a boss, devours sand, mud, hills, dunes, house-cats and soylent like it has an eating disorder.
Priced out at $90,000 Canadian beaver pelts, the 2017 Raptor ain't no cheap Fishin'Marchyshyn runabout. Based out at $70,000, our Supercrew 4×4 tester came fitted out with $20k in extra goodies like a twin-panel moonroof, sweet graphics pack, 17″ aluminum forged wheels, a Raptor tech pack and something called the "Equipment Group 802A" package for $7900. The graphics pack and interior colour accent option totaled out to just over $3400. But if you want the kids to know this is not the truck to fuck with then decal away.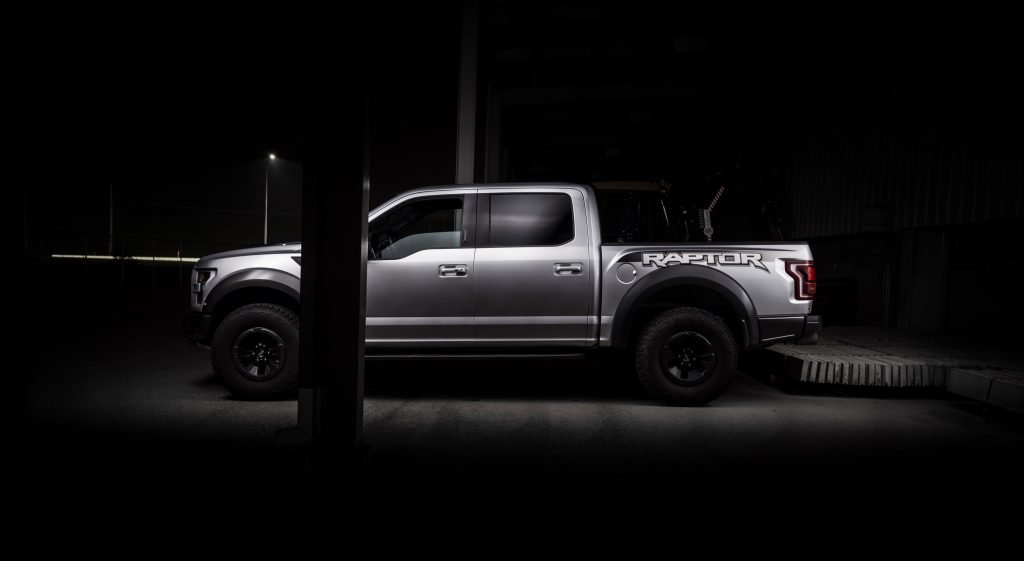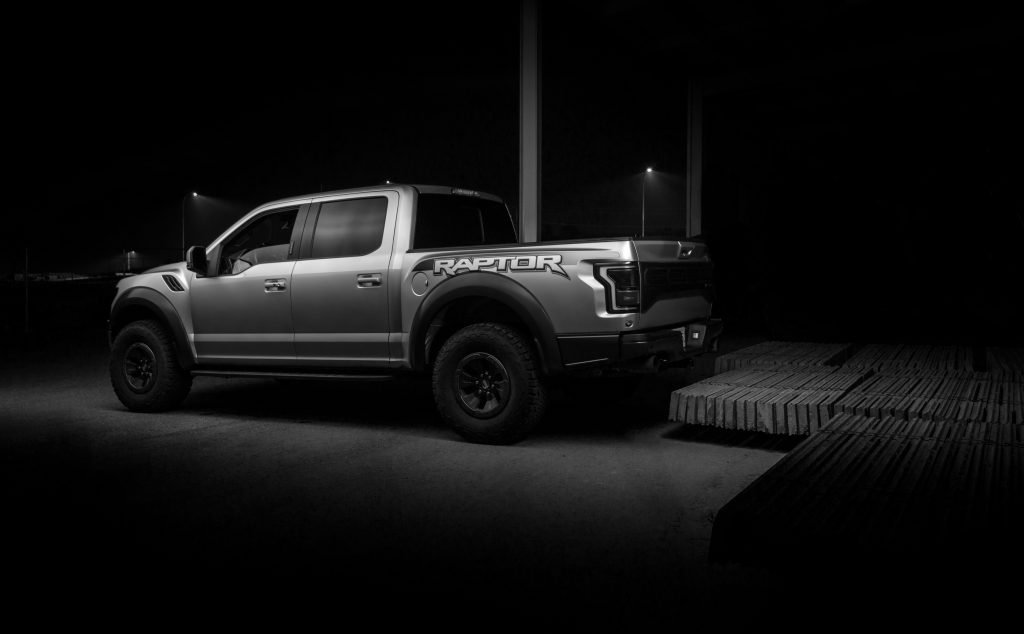 But beyond the oversized lettering and Jurassic references, exists some serious upgrades from the previous model. First there's the body. Ford has gone full aluminum to cut weight by just over 300lb. Weight would have been down even more but old Raptors had frame bending issues after some not mfc recommended jumps Since bent frames are bad, Ford upped the frames jump survival abilities.
To prove my point that the 2017 Raptor is indeed a stock running hoonigan's wetdream, here's me and my Phantom 4 playing Christopher Nolan outside the city.

Weighing in at 4729 lb (2145 kg) the Raptor is happy to be down on the scales, but holy damn is that a big number. That number does in fact come in to play on hard pavement when attempting tighter turns at speed. On the dirt however, the Raptor's multi-mode drive system takes the thing to a whole new level.
Power increases are fine but the ability to put it to the ground in a meaningful manner is key. A new BorgWarner 4×4 transfer case oversees power distribution in partner with a new series of mode settings. The new "Terrain Management System" allows drivers to pick from six presets, including: Sport, Mud Sand, Regular, Street and Baja.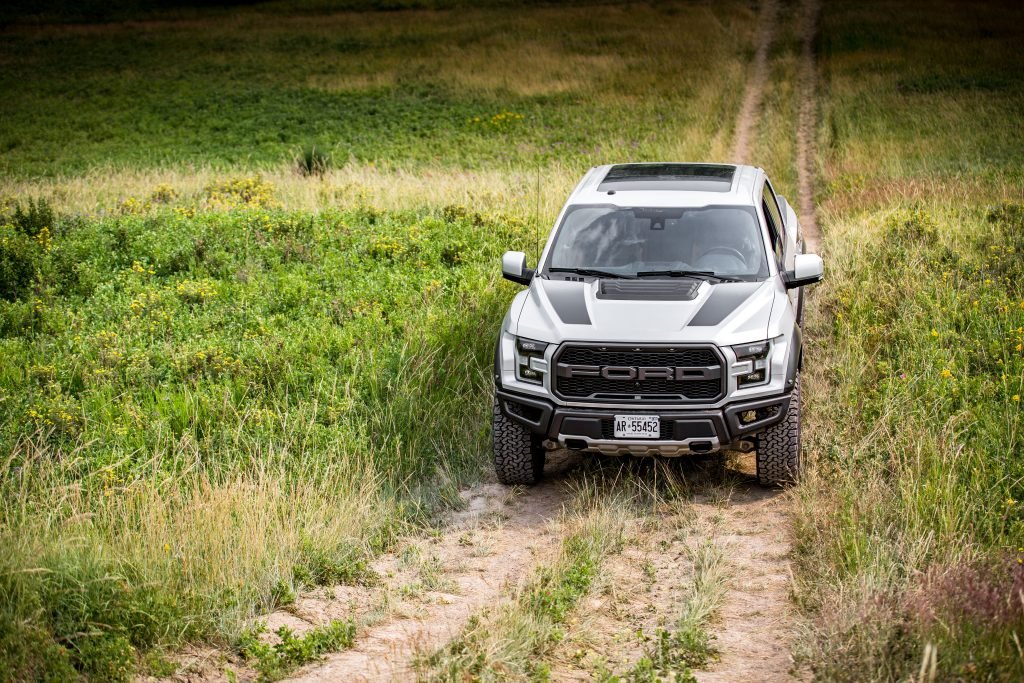 New to the 4×4 system is something called 4Automatic. This resides betwixt 2 high and 4 high. When rear wheel slippage is detected, torques are transferred to the front wheels…kind of like an alt AWD system. Now in Baja mode this setting plays out brilliantly allowing persons such as myself to enter corners at speed and drift out like a pro. The system would consistently correct for oversteer, letting the back end come out just enough to massage my ego then reign it all in for a perfect drifty exit.
Based off Ford's slightly popular F-150 the Raptor shares only portions of its namesake's design. In addition to running a 6 inch wider track than a plain F-150, Raptor also carries a serious skidplate up front, runs high performance 315/70R 17 BFGoodrich All-Terrain T/A KO2 tires and a 4.10 front axle with Torsen differential.
With traction control off in Sport Mode, wheel spin and pavement drift-a-bits are easily achieved whence turning right, or left, onto adjoining streets. With the truck's innate drifting abilities they should have named it the "Driftor" or "High Plains Drifter" or "Little Drifter on the Prairies" or "Enter the Sandman" or…
Rock Climbing or Sand Crawling Mode proved worthy after tackling a vertically challenging back country section. And in both Rock Crawler and Hill descent mode a forward mounted camera displays your path live on the console mounted television.
And according to Aristotle, 6.5 is a greater than 3.5. With that in mind, the amount of horsepower generated by the last-gen 6.5 V8 should be exponentially greater. But the Ford engine guys said fuck all noise. The new twin-turbo V6 powering the 2017 Raptor is not only more powerful and lighter but it's quicker to wind up and will spank the outgoing model in all areas.
Running a pimped out twin-turbo Ecoboost 3.5L V6, the 2017 F-150 Raptor twerks out 450 hp and 510 ft.lb of torque. That ladies and gentlemen is an increase of 75 hp over the last-gen 2014 truckster and a tree twisting increase of 40 torques! Impressive on a number of levels, the least of which is torque gain.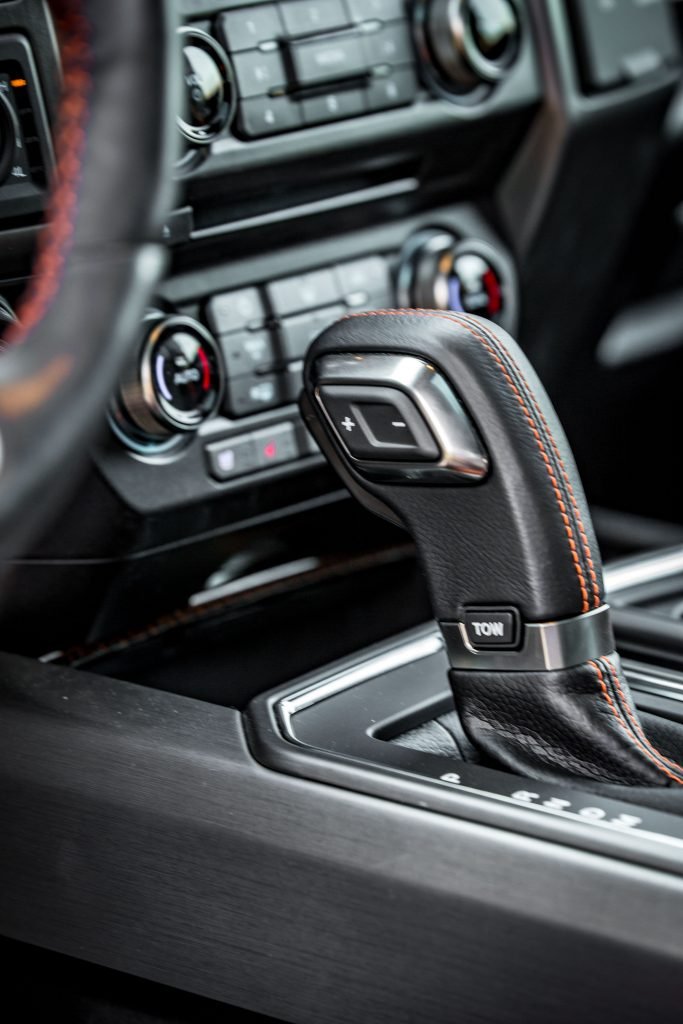 Power comes on quick, with some turbo lag, thanks to the fast to spin V6 and twin turbos. Compared to the old gen truck, torque is available earlier and stays on longer. Once power is spooled into the sweet zone, the enhanced 4×4 system and upgraded suspension work in beautiful off-road unison as the Raptor flies effortlessly over terrain that would deter the egos of lesser trucks.
On the paved stuff, the Raptor is a handful. Big knobbly tires run rough on pavement and send unique aural feedback to the cab. But it's on gravel and dirt where the Baja badged rubbers come into their own.
WATCH KEN BLOCK TOSS A RAPTOR ABOUT SOME DUNES DUDE! 
https://youtu.be/0ct4PwI7FGA
And like that Schwinn 10-speed from your heady days in band-camp, the Raptor also shares numeric equivalent in gearing. With the first six or seven gears close-ratioed up for quick, seamless power transitions, and the remaining gears for highway or superfast sand runs, the Raptor is capable of putting out impressive performance offerings.
The 2017 Raptor suspension offering features bump stomping 3 inch Fox Racing Shox. These race inspired devices feature internal bypass technology that allows for variable damping rates depending on wheel travel. These bumpsorbing things of beauty perform brilliantly on a variety of off-road terrain, keeping the truck aggressively composed throughout. Plus the inside is most pleasant, plus there's flappy paddles and tons of room for your beers bro.
Overall I'd say this was one of my favourite, most unique, most ass-kicking truckster drives in a long time. It sure beats the shite out of SUV inspired units for personality and fun. Were I to rate the 2017 Raptor's different characteristics, it would shake down something like this;
Power 9/10
Body chassis 9/10
4×4 Fun Factor 8.5/10
Suspension/handling/ride 8.75/10 (offroad) 7/10 (pavement)
Ass-Kicking Factor 11
Value 8/10
Now a letter to Ford,
Me and a former winning Baja-racer lady (and team) keep talking about running the Baja 500 one of these years. Given the Raptor's ass-kicking, Baja born nature, and all this marketing speak of being Baja ready, maybe perhaps Ford Performance Canada would be interested in 'loaning' us one of their stock trucks for 'promotional purposes' and documentarian reasonings? I'm sure we'd bring it back in mostly good condition. If not, at least you'll have a great story for your grandkids.
You know where to find me.
Source. Ford