With over 18 years experience in photographing vehicles of varying value & build, we can provide collectors & enthusiasts with professionally shot, lit & edited automotive imagery. Legacy purposes, oversized wall art, digital album or coffee table book, let us capture the best visuals & details your ride has to offer.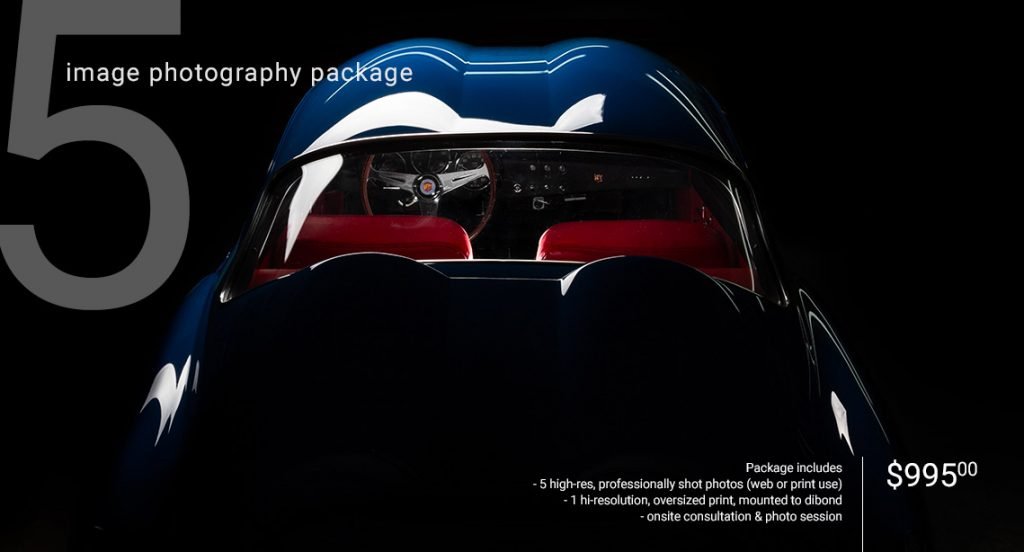 PACKAGES FROM $475
– 15 downloadable hi-res images
– includes exterior, key angles, detail captures, interior & engine photos
– images optimized post-shoot for colour balance, levels, tone, overall lighting, etc.
– shoot can take place at client's residence, business or alt location
– 2 or more cars, contact for rate
CUSTOM PRINTS/ COFFEE TABLE BOOKS
In addition to hi-res digital copies, we can provide clients high quality, bespoke boutique coffee table books, designed & printed to your specifications.
BOOKS FROM $75. PRINTS AVAILABLE IN CUSTOM SIZES, FINISHES & MOUNTING OPTIONS.
EVENT & SHOW COVERAGE
We're also available to media & publicists to cover auto related events, races, around North America & Europe. In the past we have covered events like; the New York Auto Show , California's Pebble Beach's Concours d'Elegance, its Concept Lawn Monterey Auctions, and the Rolex Monterey Historical Races at Laguna Seca for NewAtlas & Gizmag.com and RM Sothebys.