Lincoln 2017 MKX 335 hp turbocharged V6 puts the jam back in pyjamas!
Photos. Angus MacKenzie
Words. Wubs
Horses. Fordville
At $69,275 CDN Lincoln's 2017 MKX asks for a lot from the debit card, but in return it provides similar ride value and luxo-performance as its 2016 brethren. Running a 335 hp/380 ft.lb of torque 2.7 GTDI V6 through Ford/Lincoln's proven AWD system makes for excellent inner city boot aboots and go-fast runs on the wind-ee bits to Priddis. Hence the ponies.
Have to say, Ford is killing it with their V6 products of late. You have the MKX dropping serious torques for a V6 at 380, you have the Raptor spitting sand-crawlers into space with its 450 hp/510 ft.lb torques V6, followed by the new Ford GT's 600+hp 3.5L Ecoboost V6!. Someone buy those guys/women a Pulitzer and a pint!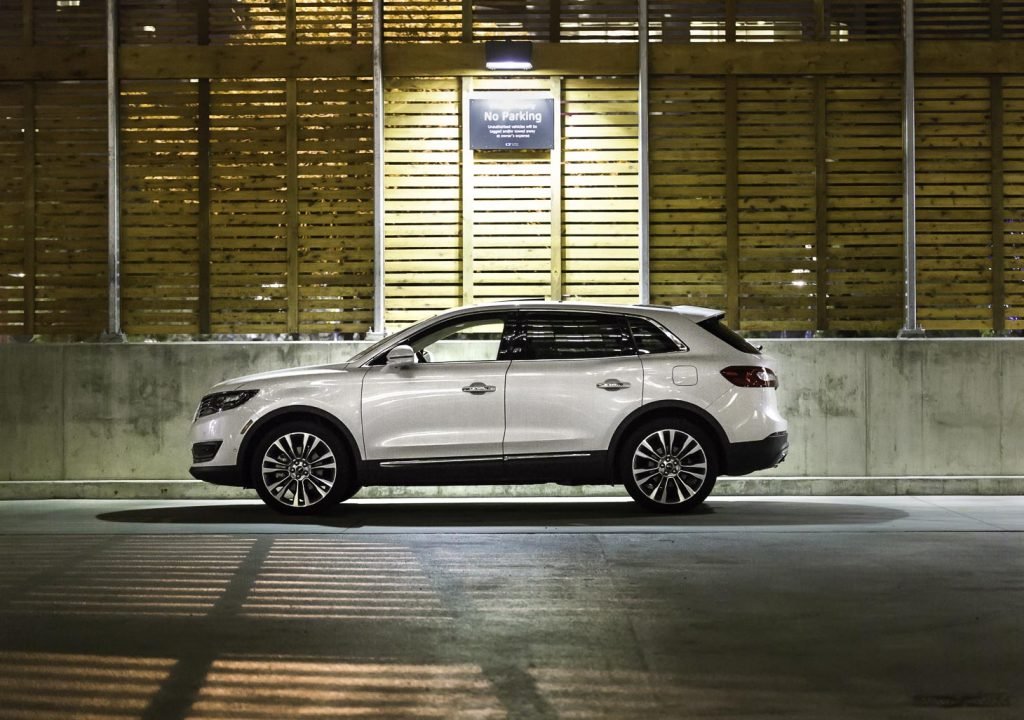 Fuel efficiency is rated at 14.1 L/100 km (20 mpg-lmp) city, 9.8 L/100 km (29 mpg-lmp) hwy, and 12.1 L/100 km-lmp (24 mpg) combined. For those concerned about math. But the more turbo, the more sucky sucky goes the dinosaur juice. In my journeys I found the fuel to go quickly twer the spooly air fuel spinner enhancer engaged more often.

The luxo-crossover as Lincoln has it pegged, differs minimally visually from the previous year. Inside be sweet like before. Seats are luxo leather supple with a myriad of comfort settings. Fit and finish, top notch. Ride quality, same as fits and finishes. Interior noise control, excellent.
Style wise, the MKX has the photogenics going on. Three-quarter front and rear angles show nicely on the Canon. My least fav angle, front dead on. Side profile makes up for it, showing off the MKXs high-waist line and subtle scalloped door treatments. The rear hatch hatch and taillight treatment also earns up the kudos.
Ride gets nods thanks to Lincoln's Drive Control system with "Continuous Controlled Damping" where suspension, body moves, steering and braking are constantly monitored. Comfort mode offers up sittin in a lawnchair sippin' mojitos comfortables, whereas normal gives you the normals. Sport gets all sporty, tightened up in the engine management and suspensional/gearbox departments. Handling compared to similar sport-like SUVs could be a bit sharper.
My one pet peeve is with the dash mounted gear selector. I know what they're going for here; old school homage to the days of dash mounted shifters. Unfortunately my brain bits found it counter-intuitive. Really prefer the shifter on the console where it belongs. Other than that, not much to complain about.

My tester, based priced at $52,100 came with optional adorations like; the Canadian Touring Package – a $2900 addon including 21 inch premium painted wheels. The $5500 Luxury option brought with it the auditory excellence of the Revel sound system, adaptive LED headlights and some other stuff. That 22-way adjustable driver's seat would've cost me $1500 twer I too have bought the car. The Driver Assist Pkg and MKX pkg added another $3600 to the bill.
The Lincoln marque brings with it that old-school history that certain consumers find appealing. Brand loyalists loyal to the brand won't be disappointed with the AWD 335hp offering of the 2017 MKX.
Source. Lincoln Canada