HOT HATCH IN TRUCKSTER'S CLOTHING – Ford's new 2022 Maverick gets it right
Words + images. Angus MacKenzie & Ford Canada
2022 Ford Maverick Lariat AWD
Truck of year I was told. Thought it might be some of that marketing hyperbole that marketing types toss about like Will Smith handing out slappys. But as it turns out, back in September 2021, the 2022 Ford Maverick was nominated for North American Truck of the Year.
Judged by The "North American Car, Truck, and Utility Vehicle of the Year (NACTOY) Awards organization" the new truck was put up against five other semifinalists including; the seriously chonky GMC Hummer EV, Hyundai Santa Cruz, Nissan Frontier, critically acclaimed Rivian R1T anToyota's Tundra. Impressive company this.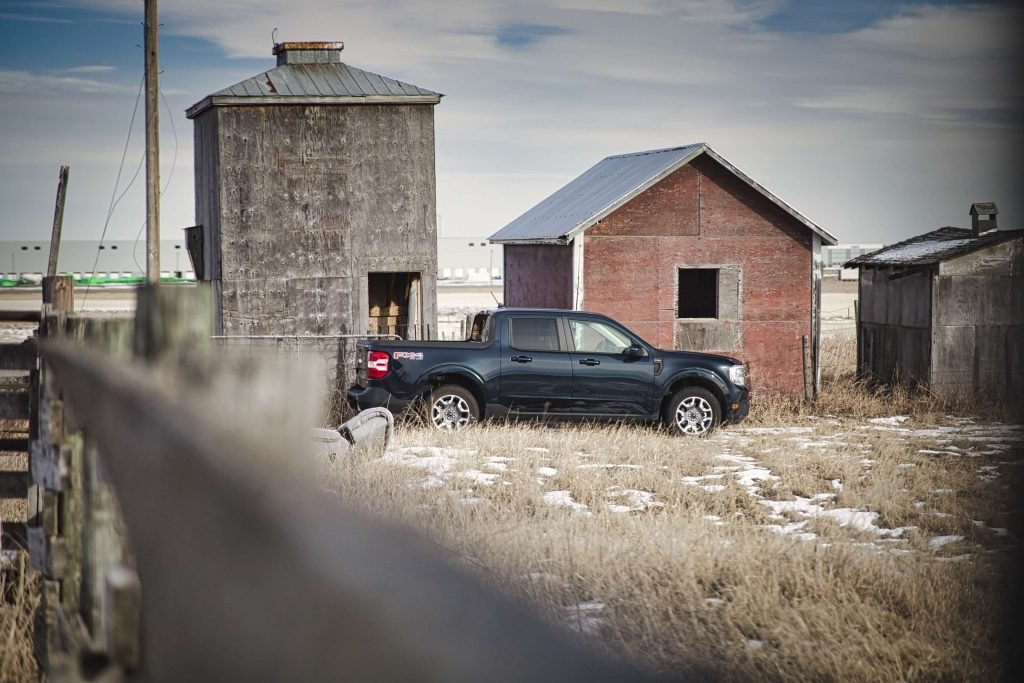 Then in November, the field was short-listed down to three finalists – the Maverick, the Santa Cruz and R1T. At this point I would've had all my marbles on the Rivian. But at the end of the day Ford's brandy new compact pickup came out of nowhere to win 2022 North American Truck of the Year.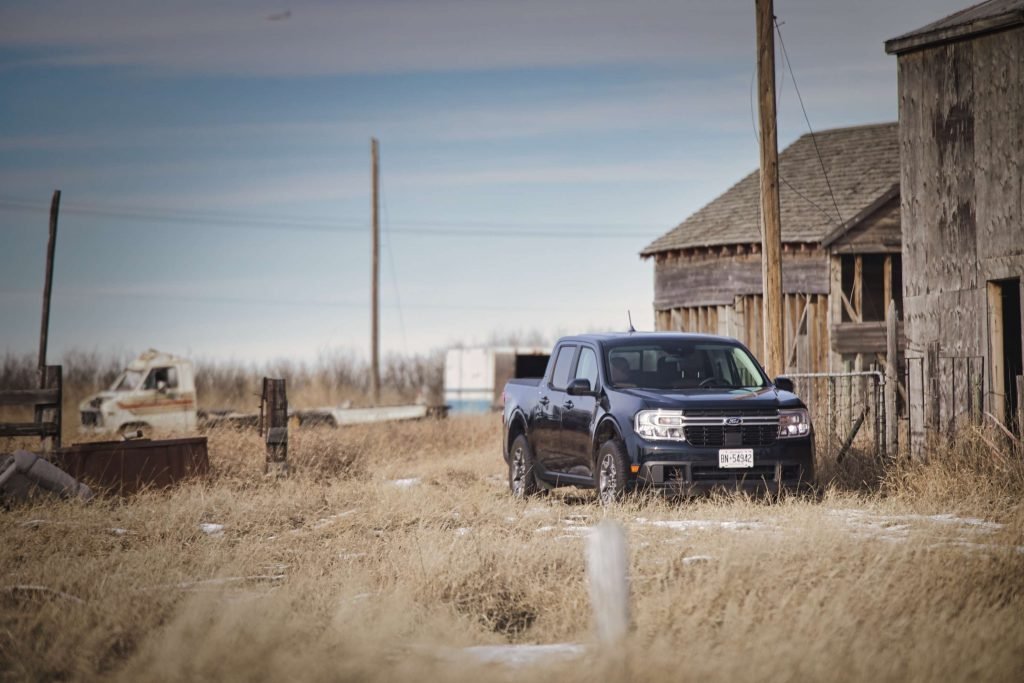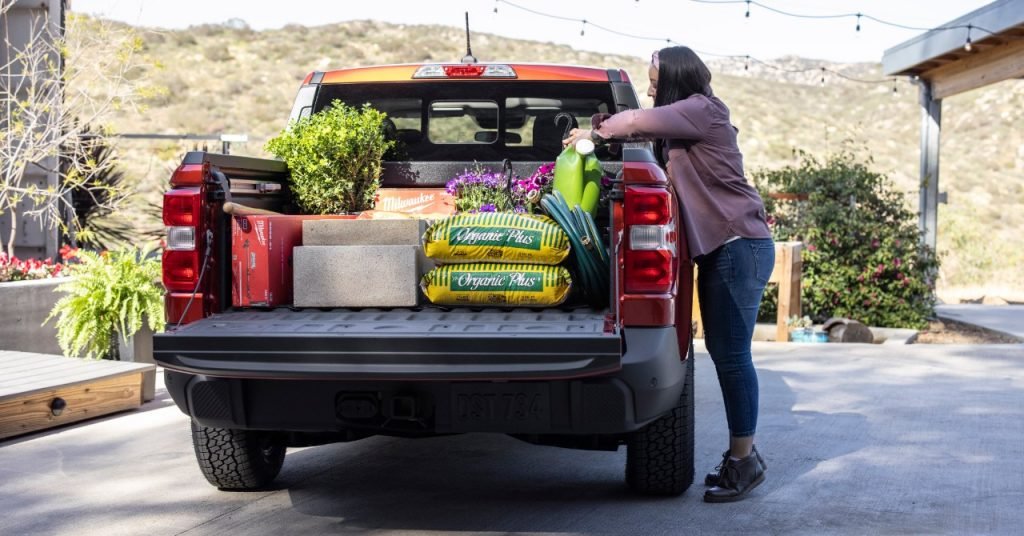 So while this truck is in fact a truck, it's not your typical F-150 truck per se. According to Ford the target market for the Maverick are not traditional truck people, but rather those in search of a hatchback or smaller CUV. Which given its performance, hauling and price point makes it a very attractive alternative.
While a base Maverick starts at only $26,900 CAD our tester in Lariat form tipped the debit card receipt at just over $46,000. Considering the amount of truck one gets for a sub-$30k price point, makes this wee hauler a seriously competitive/attractive buy.
Smaller sizing makes it a solid city option. On highway at 120 kph the 2.0 banger only needs 2,000 rpm to maintain forward momentum thanks to fine gearing in the 8-speed autobox.
Engine buzziness in revving up could be mildly irritating for some but to be expected from this hard working four banger. Rated at 252 hp and 277 ft.lb of torques, the wee powerplant generates excellent low end power and torque thanks to a fast to spin twin-scroll turbocharger and uprated 10.0:1 compression ratio.
Off the line power is good for a mid-sized truck at 5.9 seconds to 96 kph according to a variety of media outlets. Mid-range power gets it done all the way up to those higher speeds.
Payload capacity is rated at 680 kg (1500 lb) and in our tester's setup, with optional Towing Package, the Maverick is rated at 1814 kg (4000 lb) towing capacity. Both these figures are notable given the hauler's mid-ground sizing.
Straightline tracking is solid as is wheel feel on center. Body roll and torque steer are nothing like the PHEVVY Escape driven the week prior.
And unlike its bigger F-150 brethren, the Maverick is lacking the signature chonks and jonks from the rear end on the bumpy, uneven bits. To me at least it came off more composed and less pissy than several other larger truck offerings.
Intelligent AWD runs front wheels as primary and engages rear when needed. Transition between FWD and AWD is seamless. Multiple modes, including: mud/ruts, sand, normal, towing and slippery offer enough traction options to fjord most scenarios.
With trusty road dog securely fastened in the back, we put Mav to the off-road test on my top secret inner-city abandoned construction site.
Running in mud/rut mode we made easy work of short gravelly section running about a 35 degree incline. AWD system performed like a champ as did the 235/65 17" all-terrain rubbers. Bouncing about a rock strewn, field of taller grasses and snow was no problem but I'd likely not recommend Utah's Moab trails given the track set ride height.
Hilly descent mode worked like a boss in descending the same steep bit. To me it's sweet to have welcome tech like this especially in a truck with economical leanings (ie. no NAV, tiptronic, etc)
Maverick had no issues with the snow, gravel, mud laden path. Winter abilities are impressive for a truck that feels more sport than inclement friendly.
On the handling front, she tosses about more like a sports thing than truck. Threw it into a corner at 120 kph, which I'd never do in an Escape or F150, where she maintained fantastic composure with marginal body roll, solid steering feedbacks and above average suspension control. Seriously if you drove it without knowing the truck architecture you'd think it was a well set hot-hatch.
Style wise there's a hint o Honda Ridgeline in there with somc Chevy influences in the cab area. Shorty proportions and small box give her a tight, compact overall look. A welcome sizing option for those with shortish driveways. And an easier parking lot option as well.
Interior has a functionality over aesthetic mandate. Lots of plastic and hard surfaces but overall I think works well given the Maverick's price point and mission on earth. Rear leg room is acceptable as is head room. Car seat emplacement is tad tricky with rear loop anchor hidden behind fold down bench seat.
But turned out to be simple install/removal after a few tries. Seat heater has one's arse on fire in less than 27 seconds and the heated steering wheel is a most welcome touch. Visibility is good except for bit of a blind spot on the B-pillar.
But in spite of the truck's high points, it does have one serious downfall – no tiptronical gearbox abilities. For a truck, or car, of this calibre to have no auto-control options takes away a signficant degree of control from the driver. Engine braking and tossability on asphalt takes a bit hit as does off-roading abilities to a lesser degree.
Overall this wee truck of sportness gets my vote as one of the best of the year. But still takes a big hit in the gearbox due to its limited driver options. Fix that, maybe add few more ponies, uprate the suspension a tic and Bob will surely be your uncle.
Source. Ford Canada
Price as tested. $46,000 CAD