An impressive aesthetic – Lincoln's 2021 Corsair Reserve gets it right in the comfort zone
Luxury Crossovers present an interesting middle ground, marketing dilemma for suv manufacturers. On the one hand, these bigger than little "compacts" hit right between somewhat too small for some offerings and overly large, pricey models at the other. Uprated finishes, more interior space, wider range of performance options, AWD offerings and a slightly bigger overall package hit a certain demographic right where in the automotive feels.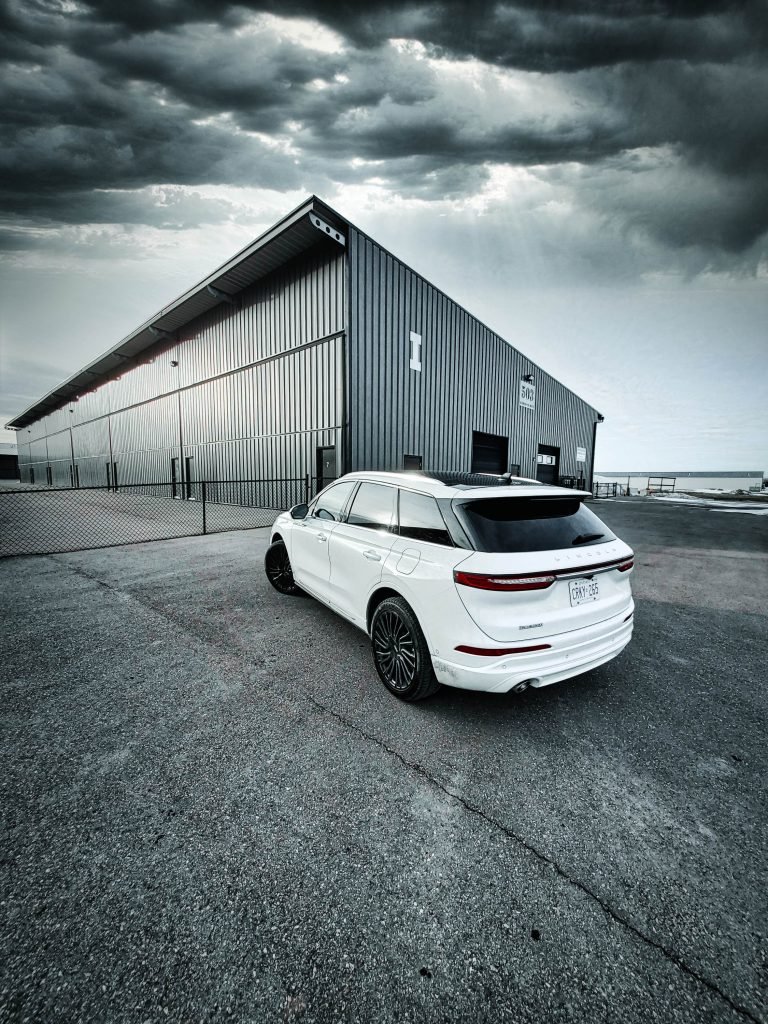 While models like Porsche's $57,000 CAD Macan hit the higher end of the set, Lincoln's 2021 Corsair comes into market at a reasonable crossover price of $44,700 CAD. Our tester, decked out in Pristine White ($2250 option), sporting the Reserve badge, AWD, a turbocharged 2.0L, adaptive suspension, a $3500 tech package and $1500 Perfect Position Leather Seats and more, ended up with a final price of $64,700 CAD. Which pushes the American made luxo ride right into the territory of ze German auto-folk.
Now comparatively speaking, decking out a Macan to similar levels would push the wee German easily into $70k plus territory. And we know how much Porsche loves to jackboot the shit out of their option offerings. The Macan, in base form, sports a 2.0L 248 hp turbo four banger, similar in output to Lincoln's 250 hp inline four. But while power outputs are alike, the Corsair's demographic are more likely to appreciate comfort and feel over the Porsche's pragmatically bedecked sporting device. Because honestly, Porsche's mandate is performance. Pure and simple.
Back in the Corsair, suspension and chassis setup provide a level of ride and comfort well suited for the demographic. As previously reported "As with all Lincoln's quality, plush, hand-selected materials are standard kit for the 2020 Corsair. Fitment and sound dampening are top notch as to be expected as is the Revel hi-fi for blasting out those wayfinding directions."
Back to the engine and related. Mated up to an 8-speed gearbox, the 250 hp/ 280 ft.lb torque 2.0L delivers good usable power in most daily driving scenarios. Flappy paddle shifters give drivers better control over engine braking and gear should they so desire when set to Manual mode. Like most smaller displacement engines, the 2.0L works hard to get the job done with revs becoming noticeable under load. For me personally, I like to hear my engines working. Some may not.
The Corsair's design, in my opinion, is one of the best looking of the luxo-crossover lot. Profile and 3/4 perspectives can't help but work for the Canon. Proportions are spot on as are bits like the tight raked rear window, roofline, waistline details and tight overhangs. I think this size of package is where mid-market crossovers really come into their own stylistically speaking.
Performance specs for the Corsair (according to Car & Driver) show the 2.0L hitting 96 kph in 6.1 seconds / 220 kph in 37.3 seconds / 1/4 mile in 14.7 sec / 112 – 0 braking 49.7 metres / skidpad .83 g
On the tech side, the Corsair is loaded up with most all the goodies one might find in this price range. For full specifics and details check Lincoln's website. Read my initial review, with pretty pics, over here.
While our 2021 Lincoln Corsair Reserve tester came with the 2.0L engine buyers wanting more should check out the 2.5L equipped Grand Touring hybrid. Featuring electric all-wheel drive and two additional Lincoln Drive Modes (Preserve EV & Pure EV) this new model offers up another level of comfort and performance. How it competes with the euro boys all comes down to individual wants and expectations.
Source. Lincoln Canada