C/D/E/F! Jaguar's 495hp F-type roadster is the one true heir to the E-type throne
Words/Photos: Angus MacKenzie
Did I get a speeding ticket after only driving the car for less than 6 minutes? Yes. Do I feel bad about it…not for a bloody second
I'd been in the new F-type V8 S roadster for less than ten minutes when I realized it might actually be the one true heir and successor to Jaguar's iconic E-type. The new go-fast kitty, with its 495 hp V8 and exaggerated exhaust emanations not only looked the marvelous part but it now also had the underpinnings to perhaps get the legendary British marque back in the game.
[80s FLASHBACK…cue Kenny Loggins' Dangerzone]
My relationship with Jaguar, had in the past, been what you could call contentious. In the mid-80's a beautiful red '67 E-type coupe had tried to do me in by hydroplaning at 100 km/h on the QE2 heading south from Edmonton. Several issues were at play in making the back end of the pretty kitty flail about like a trout that cold rainy eve. The first was rutted grooves caused by the never ending stream of transport trucks running nord to south. On downgrades the water would collect in these channels like a waterslide for big cats.
The back end of the E-type carries little weight so that fact plus the channeling caused the back end to slide out left then right then left then right, all directly in front of a largesse Kenworth. This hydroplaning phenomenon happened not once but twice, the second time at 80 km/h. After a quick talk with god and my underoos I decided to drive the remainder of the trip at a leisurely 70 km/h. A subsequent underwear change was necessary upon arriving at home many hours later. That the 4.2 liter red kitty managed to stay out of the ditch I do not know.
What I did learn was going to Edmonton is to be avoided at all costs. My other run in with Jaguar came about as a flawed investor plan to return a white '62 E-type roadster from Los Angeles. Not trailer or tow, but drive. What could go wrong. Turns out if you're the Dark Lord of Wiring aka Lucas, then likely most everything can and will. What the people I'd purchased the car off failed to mention was that someone had along the way ripped out the previous engine and replaced with a newer motor. The only problem was they'd cut the wiring in so many places that the engine bay resembled an Edward Scissorhand's temper tantrum. The car did however start and drove…for approximately 17 minutes…just enough time to get on one of the 37 lane LA highways and die. This is the 80s…no cell phones. My driving partner who was towing a 50's era Jag XK140 was miles ahead of me and had no idea I'd broken down.
So as darkness fell over the land, I tried everything to resolve the situation. Tried cleaning out the fuel filter, checked the ignition system, etc. But to no avail, she were dead as the proverbial Romanian door nail. Long story short, I took a flight home with tools on plane and had car towed to Calgary. Had the car looked at professionally which made the car work for one week, but when I sold and traded it for a '65 MGB and cash, it decided to die on the way to the new owner's ranch…which resulted in a forfeiture of $500.
To say my relationship with the Jaguar brand was mildly tainted from these encounters would be akin to saying I was in the hospital for two weeks with only a 'mild case' of food poisoning. So what would the company's new critically acclaimed F-type V8S offer to appease one so wrongly mistreated by bad kitties the past? First things first…and this is most important when having discussions about E-type siblings – styling.
The F-type is quite simply drop dead gorgeous. Although it doesn't possess the iconic lines of the E-type, the new successor with its aggressive design elements, bulging haunches and pouncy proportions, does indeed communicate what Jaguar calls a "muscular yet sensual presence." Our convertible tester, a brilliant Firesand metallic orange beasty, be stunning from most any angle – as witnessed in the gallery. The aluminum body flows effortlessly from tip to tail and the active spoiler, front splitter and gaping intakes only add to the car's performance-minded appearance. As far as head-turnability goes, the big kitty had zero problems attracting gawks and stares from a variety of riche persons named William and sketchy individuals likely named Skeeter and Mike.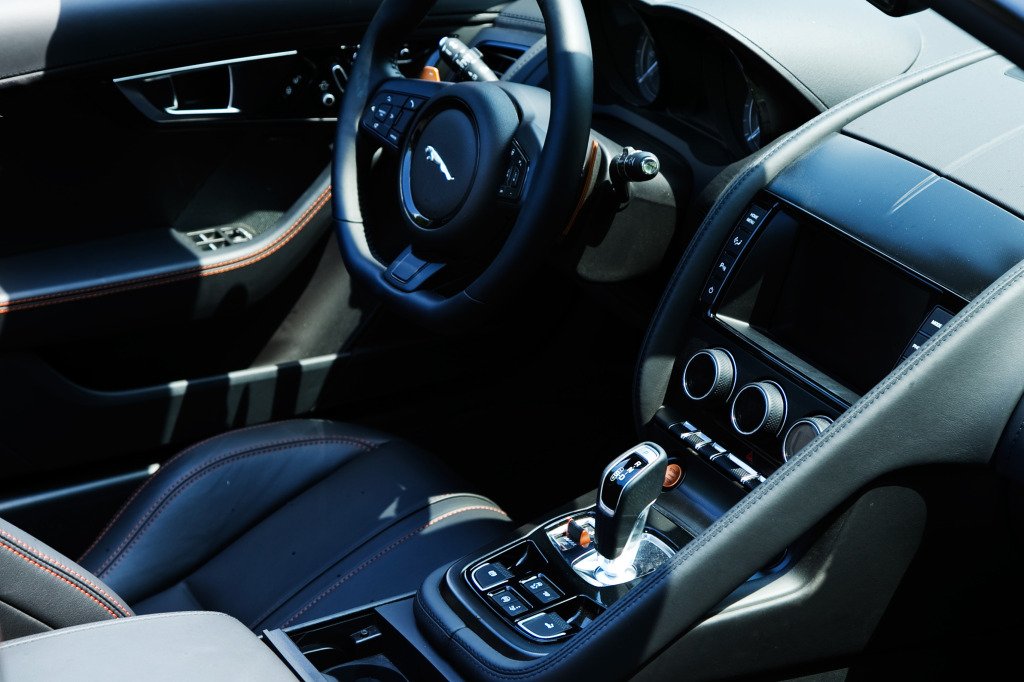 Inside the open-aired F-type Jaguar has done a commendable job at presenting a cockpit that is both sporty and luxurious. The instrument panel features clear white on black analog gauging, easy to reach paddle shifters and well organized seat controls on the door panels. Seating was comfortable yet supportive with enough lateral support to keep you in place. Wind noise with the top down was, well windy, but not unruly or problematic. With the lid up, the wind, engine and street noise are obviously reduced significantly … though when you have a Jaguar roadster one does not drive with the top up. It's just not cricket.
Yes yes, the interior's nice, the exterior is nice, but what's not polite is that 495 hp supercharged V8 they stuffed under the bonnet. Displacing 5.0 liters, the V8 has enough torque to keep you happy at any speed. Tied into the right brilliant 8-speed ZF auto-box, the engine produces ample pulling amounts of torque to the tune of 460 lb.ft. That torque also comes into its own way down low in the sweet 2,500 – 5,500 rpm revvy range. These performance stats mean the F-type V8S is capable of hitting 100 km/h in an impressive 4.3 seconds. While I only had the car up to 298 km/h on Queen Street West (I kid of course) Jaguar makes claims that their good kitty can reach a limited top speed of 300 km/h (186 mph) if need be.
I can attest to the big cat's quickness and pulling power as we experimented on both highways, rural and abandoned industrial roadways. The power curve for the most part presents drivers with a highly intoxicating shot with a simple blip of the throttle. The back end does tend to slip out under heavy acceleration, even with traction control on. With traction control off, all kinds of 'hoonistically irresponsible/we highly encourage this type of behavior on-track mayhem' as can be seen by one drifty Chris Harris video in the video short at the end of this diatribe.
The gearbox also deserves kudos. It enables the car to relax at highway speeds in eighth gear, but gets downright feisty when pushed in paddle shift mode. The QuickShift automatic gearbox constantly monitors driver inputs and a variety of other information to provide optimal shifting, though I must admit I was having too much fun on the paddles to really assess the car in auto mode. The F-type's performance mode, or Dynamic Mode, definitely tightens everything up. Throttle response is faster, shifts are faster, and throttle tip-in is definitely improved as was handling, thanks to tighter dampers.
Weighing in at 1,614 kg (3,558 lb) the F-type V8S roadster isn't exactly svelte. As Mr. Harris points out, the car is heavier than a comparable Porsche 911, one of the key marques it's designed to compete against. While it might feel slightly heavy when asked to transition quickly, I would say the car is more of a GT device meant for open roads. So for this I can forgive the less than Miata-like responsiveness.
The suspension does a fantastic job of smoothing out the ride on imperfect road surfaces as it assesses body motion and pitch, adjusting each damper or corner accordingly in order to provide optimal control. Steering feel is excellent, providing quality feedback and response across the full gamut of driving scenarios. The big kitty's brakes also played out nicely to stop or reduce speed as needed with good peddle feel and modulation.
Another outstanding feature is the awesome, dual-personality Active Sport Exhaust system – it's the auditory device that every kid should have. When activated via a switch on the console, this clever bit of kit allows exhaust gasses to exit the F-type's twin tailpipes more directly. It delivers a sound that harkens back the days of Jackie Stewart and Stirling Moss as it burbles, pops, barks and bites at the air. Unfortunately the aural excitement that the exhaust brings to the game also draws law enforcement out from beneath their caffeine induced trances like bees to honey.
My experience in Jaguar's F-type V8 S roadster served to erase most of the memories of my '80s E-Type tribulations and gave me new faith that the old British marque is well and truly back on its game. The 495 hp F-type V8S roadster sells for roughly US$100,000 or 25% more for Cdn buyers based on today's exchange rate.
Source: Jaguar Canada

*This feature originally ran on the Gizmag.com July 2014