The polarizing flagship of luxury that is Infiniti's expansive QX80 Limited
Photos + Words. Angus MacKenzie
Size matters. Or so the good people at Infiniti would have you believe. Larger than a Soho 1-bedroom but smaller than a Cosco shipping container, Infiniti's expansive QX80 Limited is one of those polarizing vehicles of size you either love or you hate.
The first thing I thought when driving the alphanumerically-challenged QX80, was that this is something Mr. JayZ and the Beyonce might drive. I personally do not know either the Jayz or the Bey Bey but I do know this is the type of vehicle more fitting to persons of their platinum status than myself.
Check the blogosphere on the QX80 and you'll be guaranteed to find more than a heaping teaspoon of animosity and dislike for the flagship. On the other hand, those that have driven it and gotten past the cave trolly like nose, tend to be more positive.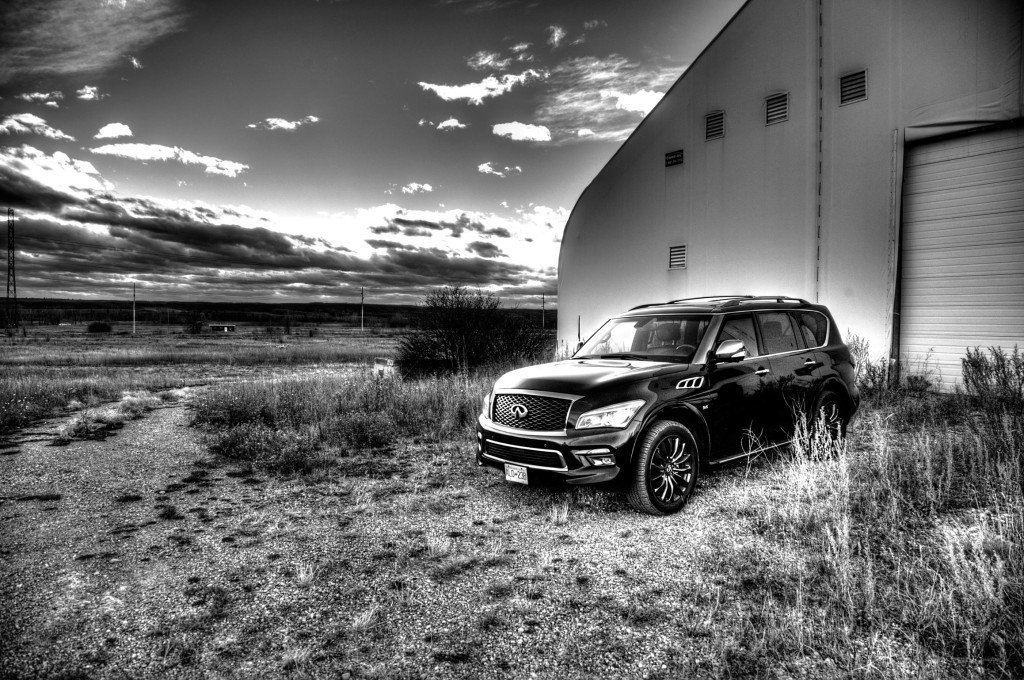 Inside Infiniti has spared little expense on resplendent finishes and materials. The quilted leather seats deserve much kudos for their look and squishy comforting abilities. The steering wheel fits your hands like a glove.
Now in its 5th year, the QX80 is regarded by Infiniti as taking premium to the next level. Standard fair for the truck includes; Hard Drive Navigation System, Motion Object Detection, remote engine start and Infiniti Connection telematics systems added as a standard feature with a Bose 2-channel, 13-speaker Premium Audio System to entertain guests.
Perforated semi-aniline leather seating with white piping caresses your backside and side sides, while kids in the back can enjoy Teletubbies on the dual 7-inch colour headrest monitors.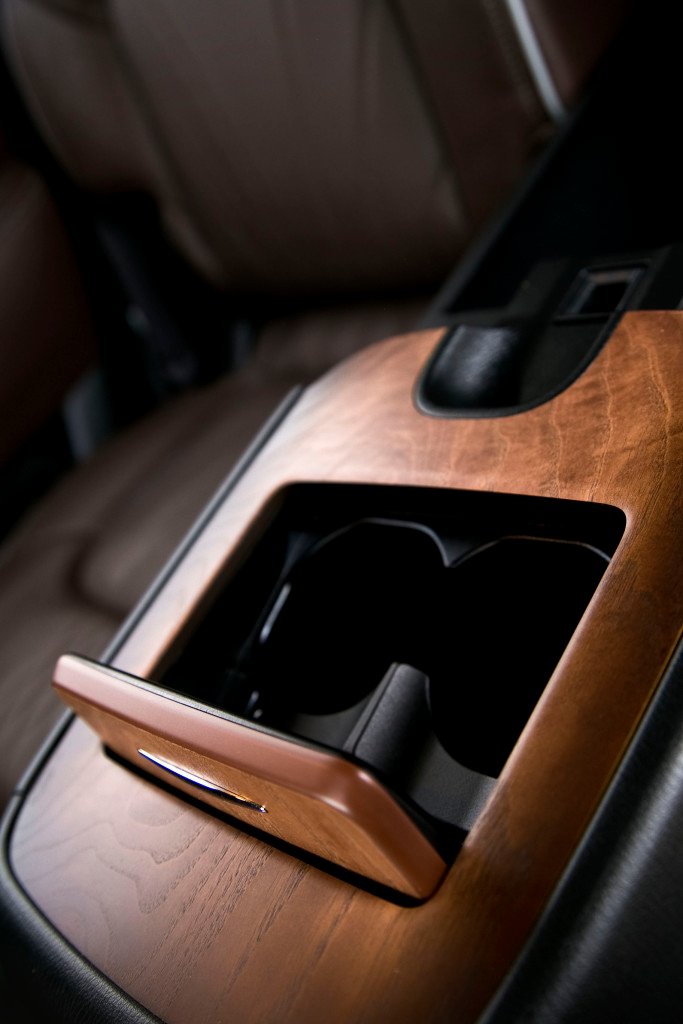 Exterior features on the Limited included such goodies as auto-dimming side mirrors, body colour running boards, roof rails and crossbars, power sliding tinted glass moonroof and a power rear liftgate.
Stylistically. This QX80 IS BIG! But for the most part – the Q's side massing and presentation show not bad on profile. Still there's cognitive visual dissonance at play when viewed from other angles.
The glassy space from the waistline to the roofline, expansive. As is the distance from the A-pillar to the tailgate. But the mix of an imposing near-vertical rear window with that of a narrowing back window treatment, and tiny wheel arches, feels proportionally out of sync. But that's a matter of opinion.
The nose on the QX80 is another kettle of fireworks altogether. This is the area of visual distress that causes the most concern to the internets. Headlights separated at birth by a monumentally expansive grill are part of the problem. The bulbous rising hood bares a certain resemblance to a certain cave dwelling science fiction character in the Lord of the Rings vernacular.
I've tried looking at the nose area objectively from various angles and tried to harmonize the visual in my mind. The rest of the vehicle I made peace with and found solace in various design details, but that face. Maybe I need to revisit Lord of the Rings again.
To be fair, when dealing with a design of this size and these proportions, creating visual cohesiveness becomes problematic. Overall length comes in at 5.3 meters (209 in) while across the waist the QX80 measures out at 2.1 m (80 in). But how tall is it you ask. With roof rails the big Q stands above the rest at 1.925 m (75.8 in)

The engine, an aluminum-alloy 5.6-litre VVEL V8 with twin-cams, 32-valves and Direct Injection has its work cut out for it. Developing 400 hp at 5800 rpm and 413 ft.lb. of torque at 4000 rpm the engine does a decent job at moving the rig about, given its size.
On hard acceleration one can tell the mechanicals are indeed working for their lunch. Mid-range power is good but it could more torque would be nice for hilly terrain and the pulling of things.
Seven luxuriant gears of transitional accommodation await the power deliverance from the petrol popping powerplant. The gears can be used for 4×4 mode or snow/ice mode or tow mode or where's my freakin pizza mode. Gearing was pretty decent. Infiniti reports mileage claims of 16.9 L/100km in the city and 11.9 on the highway. My combined mileage swayed more towards city figures.
Mid range power is good thanks to the V8's wide torque band. That torque can also be used for good when towing aforementioned shipping containers, or large floatation devices for the upper class folks.

Now we have to be clear, and this may come as a shock, but the QX80 isn't light. It's actually really really really heavy. Think 2,671 kg or 5,888 lb heavy. I'm not even sure what to compare this figure with…a grain elevator maybe? On the plus side, cross breezes shouldn't be a problem.
Understeer and floaty 22″ tires further add to the 'do not drive it like a Fiesta ST' and 'do not enter in the Sunday Autocross. On the other hand, all that plushy goodness and luxury directed suspension bits makes for a smooth about town ride.
That suspension arrangement consists of an independent double wishbone setup, front and rear, Dual-Flow Path twin tube shock absorbers, stabilizer bars and an automatic rear leveling system. A Hydraulic Body Motion Control system is also available.
And compared to the Tahoe the QX80 handles road irregularities with a bit more finesse. Not so much of the unsprung feedback coming into the chassis sort of a thing. Body roll, yes we have body roll but no more than to be expected in a vehicle that tops out at 6'5″. Driven with respect to size and mass one can easily learn to enjoy the ride.

Should I even go into how much space exists in the QX80. Imagine an aniline leather-lined shipping container with windows. According to Infiniti, "The design is dynamic, its size is capable of transporting eight adults and their belongings with spacious elegance."
Speaking of seat heaters. On the way back from acquiring the QX80, I started to feel unusually hot. Not like fever hot but Joe Forman grill hot. Apparently some too-clever-by-half interior designer thought 'camouflaging' the seat heaters in the form of ambivalently marked knobs would be best.

But aside from the lesson in thermal dynamics, I think if one were to be in the market for an upscale luxury SUV, sporting a sumptuous interior, quality hefty powerplant and 22″ rims then the QX80 wouldn't be a bad place to start. And the Ultrasuede lined headliner and pillars deserve special recognition.
I was actually disappointed to return it at the end of my seven day sprint. Apparently looks can not only be polarizing but also deceiving. Think of it as a lower Manhattan 1-bedroom with mobile capabilities.
Pricing for the luxury beasty starts at $74,000. Our tester in Limited Edition trim will take $91,000 from you debit card.
Source: Infiniti