The incredible tactile, visceral renderings of 21 year old Khyzyl Saleem
Images: Khyzyl Saleem Copy: Angus MacKenzie
Anyone not employed by McLaren who's tried to pencil out a car in Cranium will appreciate the skill required to create something that's not a cross between a mutant Checker Cab & Homer Simpson's Canyonero
Which is why when you look at Khyzyl Saleem's conceptual designs, you get a better appreciation not so much for his talents but how lucky Lamborghini is to not have hired us.
According to his bio, Saleem is a 21 year old concept artist/illustrator from Manchester, UK and been in the design field for roughly three years. In addition to freelance projects he's also worked on a "variety of projects with a varied client base." His works include his own interpretations of the Miata, Nissan 350Z, Ferrari 365, domestic American muscle cars and the occasional Pagani Huayra. But its Saleem's latest work; a highly conceptual Marty McFly B2F time-travelling machine, that Jalopnik picked up on that takes the meaning of artistic license to a whole new level.
"I've always wondered what a DeTomaso Pantera would have looked like as a time machine instead of the not-so-trustworthy Delorean," notes Saleem on his website. "So here it is, a mixture of photo bashing & painting, just my modern-ish interpretation of one. I had to add Marty in as well because..well..it's Marty (his face is a little odd but the time issue got in the way)."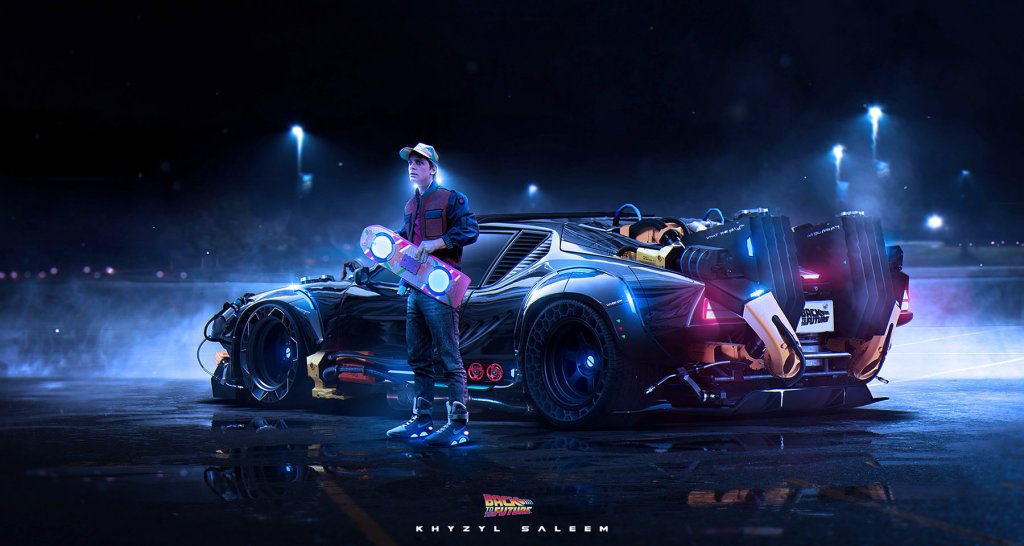 Doc Brown's Delorean isn't the only one that receives the Saleem treatment. An old school Mercedes 300 SL gets the treatment with the addition of completely nonsensical wings, trim bits and monstrous side pipes under the rocker panels. Saleem also recently crazified the fuck out of a McLaren F1 for white-haired Doc Brown.
While some of his works stick close to the original mfc proportions and dimensions, other cars become shorter, fatter, wider, more extreme, etc. All in good fun to look at and all still cool in their own quirky pixelized way. Some he modestly apologizes for, making mention of only "having the lunch hour to render them up." I could be given 38 days and still not come up with a tow hook that looks as good as his.
I'd recommend following Saleem on the Facebook or Twitter to stay apprised of any new or upcoming creations. Saleem's work can be found on the ArtStation website where his folio pieces reside amongst other talented individuals.
Source: Khyzyl Saleem via ArtStation