Lincoln's 2018 Navigator meets John Snow on the road to Winterfell
words / photos. Angus MacKenzie
If I had a McConaughey for everytime someone asked me to do a McConaughey I'd be a fekking millionaire. Yes this is the big SUV that Mr. Alright drives about in his Tom Ford suit and $95 million net worth smile.
If he seems comfortable, it's because he is/was. The big beasty headliner act from Lincoln is the Winston Churchill of domestic SUVs. Soaked in comfy, greying population attitude and loaded up with cutting edge tech, the 2018 Navigator is a feel good ride for the big money demographic. Running a similar powertrain to the Raptor, the twin-turbo 3.5 litre V6 puts out an impressive 450 hp and 500 ft.lb of torque. And you'll need that torque because at a staggering 6,083 lb the road-going vessle is anything but light/lite.
To put that weight into perspective; a 1971 Alfa Romeo GTV 1750 weighs 2,266 lb while a 2002 Honda S2000 weighs in about 2750 lb….putting us at 5,016 lb. Add on a 1,000 lb Heifer from Southern Alberta and we're even on the scales. But in spite of the big weighty numbers, the NavvyG does an admirable job at behaving itself on both dry and winter roads.
I ran the wee Louisville, Kentucky built SUV to within acceptable parameters on dry and snow laden fields. The adage "this submarine doesn't exactly stop on a dime" comes to mind when one realizes they're not in a 2700 lb Honda. Late braking in the Navigator is not something I recommend. Early stage preparedness plans need to be the order of the day when stopping this thing from higher velocities. But what I will say is how well the 6 ft 3 inch thing handled itself.Body roll, yes, forward dive or unsettling behaviours, not in the NG's profile. Ride quality lived up to expectations as did the thousand-way adjustable seats. Which strangely enough I found to be too adjustable.
Someone from World of Warcraft clearly had their sweaty RPG hands involved in the dashboard design. Swirly graphical worlds greet driver's from the 12″ LCD instrument panel. Thedisplay is clean and tidy until you switch drive modes, at which time visions of Ready Player One pop out from the center screen. Excite mode shows my brother resting inside a large snowglobe, in his best bear-covered jammies n Bruins cap, eating Cluck n Cleaver on a Sunday. Snow mode on the other hand shows a boy named Hans in his grand-mamma's Austrian farmyard in December. Sand mode finds you on the set of Dune with Kyle MacLachlan yelling atop giant sand worms.
Six drive modes are available, from slippery to excitable. Each designed to tweak key bits like; adaptive suspension, shift points, 4×4 drive lines etc. Nug Nug mode autonomously takes you to McDonalds for a 12-piece Nugget Meal w medium fries and a Coke.
With over 2000 combinations of 4×4 modes to choose from (there are like 4) provided the thing with excellent take off, cornering, braking and sweet jumping skills. There were no sweet jumps. I tried to get stuck, or to the point of almost getting stuck following one of the bigger assed snowstorms in March. The big stubborn beasty wouldn't have it. I did run into a snowbank thinking I could climb out the other side, only to learn it had amassed 7.5 MONTHS OF COLD HARDENED WINTER behind its poofy inviting demeanor.
But on the inside where it's warm as a Churchill brandy by the fire, luxo-comforts await you and 36 of your closest friends. Fine leathery bits mixed with nicely polished hard surfaces drip from the interior space.
Automatic stepside running boards pop out to assist in the climb to the seats. Visibility is greenhouse good as you sit up high enough to almost see Evanston on a clear day. Kidding, no one can see Evanston.
Re. storage and cargo hold capacities….Hutterites be getting chubbed up in the black cloth regions thinking about the number of live goods and tater tots they can stuff up in the Navigator's cavernous 103 cu.ft. back area. Ten gears and a towing capacity of 8,300 lb should flush out any concerns brother Mathias may have re. hauling livestock and baked goods to market. (disclaimer. Hutterite chickens and pies are quite fantastic)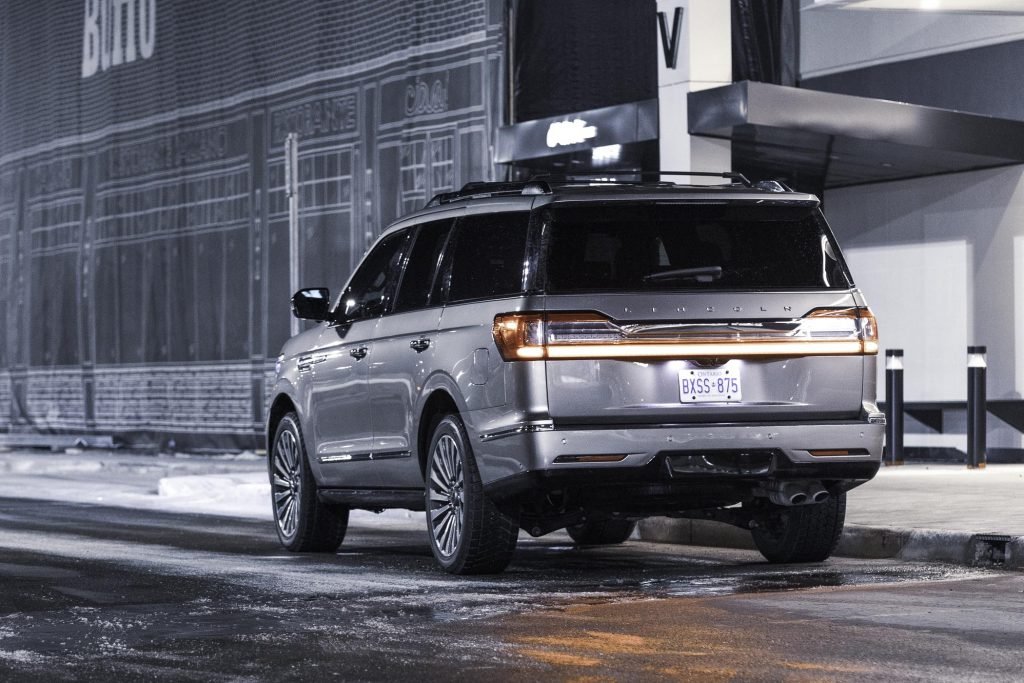 In spite of its small-bus proportions and expansive vehicular massing, the NavG styles out rather nicely. Nicer than the Expedition I thought. Easiest to find in any parking lot, but unable to go into most mall underground parkades, the tall thing is striking on profile. The 3/4 front view shows off the massive grille that could double as a fairly effective fish catching device. Minimalist chrome accents help break up the visual massing as do the big 22 in turbofan type wheels.
Lincoln and the McConoughey guy promote the Navigator as the "perfect blend of power and performance". Big words for a big truck. I agree to an extent with the blend of power and performance marketing lingo, but at 6000 lb I'd be wary to consider it a performance vehicle. While the 450 hp V6 is brilliant, along with fit, finish, and the wee clever 4×4 system, I feel it fits more into the "large and in-charge, I'm from Texas, what do you have in something really fuc*ing big & expensive" category.
As a bonus feature, the 2018 Navigator it turns out, makes an excellent Cluck n Cleaver chicken runner.
Sourc: Lincoln Canada
2018 Reserve 4×4 Edition
CDN MSRP $102,000