Limited to only 24 units at $2.3 million, Aston Martin's 800 hp track-only Vulcan is highly illogical
At 800 hp and enough carbon fiber to choke an Aventador, the new Vulcan from the kids at Gaydon is the car that Spock always wanted but was afraid to rationalize.
At a cost of 1.8 million UK pounds, or $2.3 mil US pesos, the soon to be unveiled Vulcan carries in its belly a 7.0 liter V12 that like all Astons, sends the power bits to the rear wheels. Sporting the traditional AM racing colours, the Vulcan device is intended to go head to head with the likes of Porsche's 918, Ferrari's Lalalala Ferrari and McLaren's P1. But unlike those other bi-racial products, the Vulcan uses only petrol to motivate itself about. No electrical impulses or forward mounted generator systems here.
From the official press release, "…the supercar sees its power-to-weight ratio exceed those of the GTE cars which compete in the FIA's annual World Endurance Championship." But in addition to the race spec weight ratio, the Vulcan also features a carbon fibre monocoque and body constructed by Aston Martin's long-term specialist body engineering and manufacturing partner Multimatic.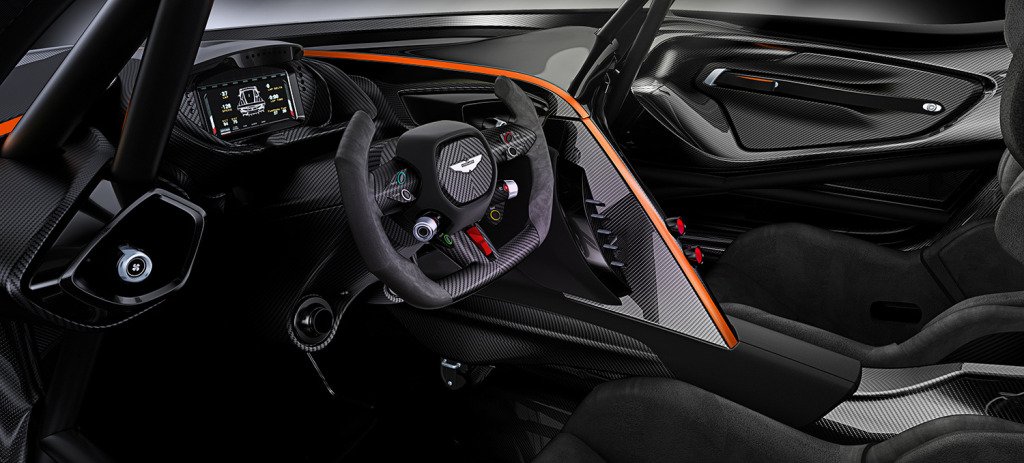 On the mechanical side of things AM has stuffed gimmicky bits like an: integral limited-slip differential, magnesium torque tube with carbon fibre propeller shaft and Brembo racing calipers acting on carbon ceramic racing disc brakes which measure 380mm in diameter at the front and 360mm at the rear. Those in the US can figure the metric out themselves.
Keeping the pricey device on the tarmac will be the responsiblity of 345/30 x19 rear wheels and Michelin race specification rubbers, that will see power delivered to them via a rear mid-mounted Xtrac 6-speed sequential shift gearbox. The car, like Lamborghini's Aventador, uses a pushrod suspension system to reduce unsprung weight and keep the car grounded. Anti-dive geometry will be complemented by Multimatic's Dynamic Suspension Spool Valve (DSSV) adjustable dampers.
Stylistically, the car that Spock might use to meet lady Vulcans takes some design cues from the One-77 but is otherwise its own car. The dynamic, purposeful design has the car decked out with huge hood snorkels, sharp Corvette like profile elements, a huge carbon fiber wing, long sweeping roofline and monster diffusers. Narrowed LED headlight treatments evoke an almost HALO game like aesthetic that come off as slightly disproportionate to the rest of the car.
But only 24 being made available to an elite stable of rich racer kids, it's highly unlikely you'll see one in your neighbourhood…unless of course that 'hood is Dubai, Monaco or Estevan, SK. Those lucky owners will be treated to proper track driving courses so they don't dismember themselves and car first day out. And that 24 unit figure isn't just a random thing. The production run is based on the 24th movie in the James Bond series releasing later this year, but it also refers off the 24 hour endurance races the car will compete in this year.
Sadly, I won't be on hand to see the Vulcan's world-debut next week at the 85th Geneva International Motor Show (Hall 5 Stand 5253) at 10.15am on Tuesday March 3. But if you're there, hi-five the kids from Gaydon for me.
Source: Aston Martin