Jaguar Experience: The Parking Lot Sessions
What does a 550 hp Jaguar F-type R Coupe and a Cross Iron Mills parking lot have in common?
They're both out of reach of the average urbanite. (cue rim shot)
Images Copy. Angus MacKenzie
Few weekend's back, the fine fast folks at Jaguar Canada invited internet accessed persons to throttle about a number of their models. The place, a far too small parking lot betwixt Loews and Cross Iron Mills northern tip. Starting in Europe, The "Art of Performance Tour" provided consumers the chance to drive an XE, F-Type R and the much anticipated F-PACE.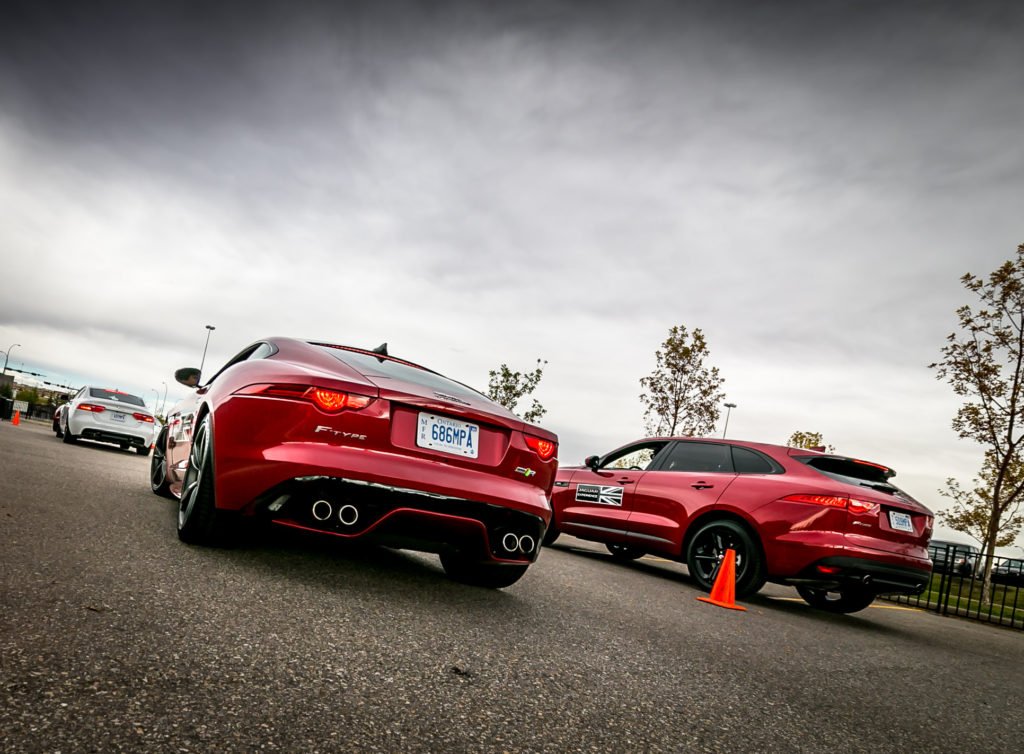 Before any seat time was allowed, attendees were required to go through a requisite marketing pitch. Polished video of the UK marques overlaid by carefully chosen superlatives were the main course. The twist du marketing was the line, "We don't have anything you need. We do however have what you want." My debit card remained in my pants but the twist did lighten the mood for what was an otherwise humourless crowd.
But people didn't drive 5000 km from Calgary's city centre to the distant shores of Cross Iron Mills to be pitched. No, it was the opportunity to drive several of Jaguar's most infamous and newly released models. The goal; to allow average median income couple with combined income of $175k or higher, an opportunity to try the models out in a controlled, parking lot environment. The courses consisted of a seriously tight autocross setup, and a novel gated course.
Starting off in the autocross our group was up first in the seriously too fast for television 550 hp R series F-type. Seriously, this thing should only be driven by Chris Harris on the Nurburgring on a Wednesday. Over in less than 12 seconds, the pyloned course consisted of one Chicago Deep Dish box, one teeny tiny chicane, one big tight left and one subtle right before vocally prompted to cease and desist. But while the course didn't come close to showing off the BEAST KITTY'S pavement nomming potential, what it did do was give potential customers just enough to wet their proverbial automobilia appetites.
While I've driven the lessor powered, but equally awesome F-Type V8S and more nimble supercharged V6…they fail harshly in comparison to the snarkly, barky exhaust rapport and pure power of the R coupe. And cue purr purr purr…
On to more practical Canadian models ie. the XE and F-Pace. Both share similar AWD systems and powertrains but it's the F-Pace that was the big surprise. Both my co-drive and myself managed 1.0G on the big Loews' left hander in the 2017 SUV. While the chassis and tires did protest at the speed and curvature at which they were asked to perform, the F-Pace managed to claw out impressive composure and handling for a fast ute. If'n I'm no mistaken, she were running either a 340 hp supercharged V6 or 380 hp. Felt more like 340 hp but I'll double check.
And the interior twer finished up on such a level as to make a Land Rover jealous…which was also there…but across the parking lot…and customers didnt' get to drive but rather passenger instead. Putting extended-period F-pace test drive on wish list.
Starting at $48,500 CDN, the 340 hp XE sedan showed itself to be Jaguar comfy inside while playing AWD sticky in the gated cones segment. In the autocross segment, the XE performed well but as with most AWD systems, crickety tight pylon courses were not its ball of yarn. I could see it being an awesome weekend-to-Banff-getaway-ski-vehicle-in-February-after-a-monster-dump choice. Corporate Jaguar claims a 0-100 km/h time of 5.4 seconds via the supercharged V6, which I should add, spools up bloody quick.
The innovative cone course in which the XE was the vehicle of choice, had drivers navigate through a series of lit gates, which would only light up once one gate was cleared. The idea as explained; put the XE as close to the centre of the gates as possible. Measured by GPS, best drivers were those that not only drove fast but also kept er in the crosshairs throughout the run. Designed by Jaguar and a third party, gates would light green with the next gate flashing blue. While each route was different, with a set of maybe 15 gates to be cleared, the distance was the same for each. While I managed a 41,000 something score, she weren't enough to make the leader board…mostly because I didn't listen so good to the "don't just go fast" part of the tutorial.
For the opportunity to throw about some of Jaguar's best kitty's for free and with background check was indeed a good thing, for both auto-journo types and inquisitive future clients alike. Think The F-Pace shall do well in this market, can it disseminate itself from all the other Euro chaff. (See gallery for complete Kodak experience)
Special thanks to Jaguar Canada…who so owes me track time for the big F-Type R tease!
Check to see when the next Fast Kitty Experience will be in your neighbourhood
Source: Jaguar Canada