Catching grasshoppers & making photogenic in Chevy's premium-sized Tahoe LTZ
Words/Photos. Angus MacKenzie
About a month ago I/we had the pleasure of piloting a large silver device to the very corner of Southern Alberta. Cypress Hills, a naturally occurring geological formation in the province's SW.
Climbing 600 meters from the prairies, this "plateau is home to an astonishing diversity of plants, animals and features a unique mix of forests, wetlands and grasslands." Seems like a perfect place to play about and test out Chevy's 2015 4×4 Tahoe LTZ.
One way from the outskirts of Calgary to Cypress Hills is roughly 390 km. More than enough distance and varying road conditions to adequately experience and pass judgment on this 'purposeful yet functional' SUV.
Not quite as extensively large as the Suburban, the Tahoe is nonetheless a substantial piece of machinery. To put this full sized SUV in context, I need to talk about Uncle Norm.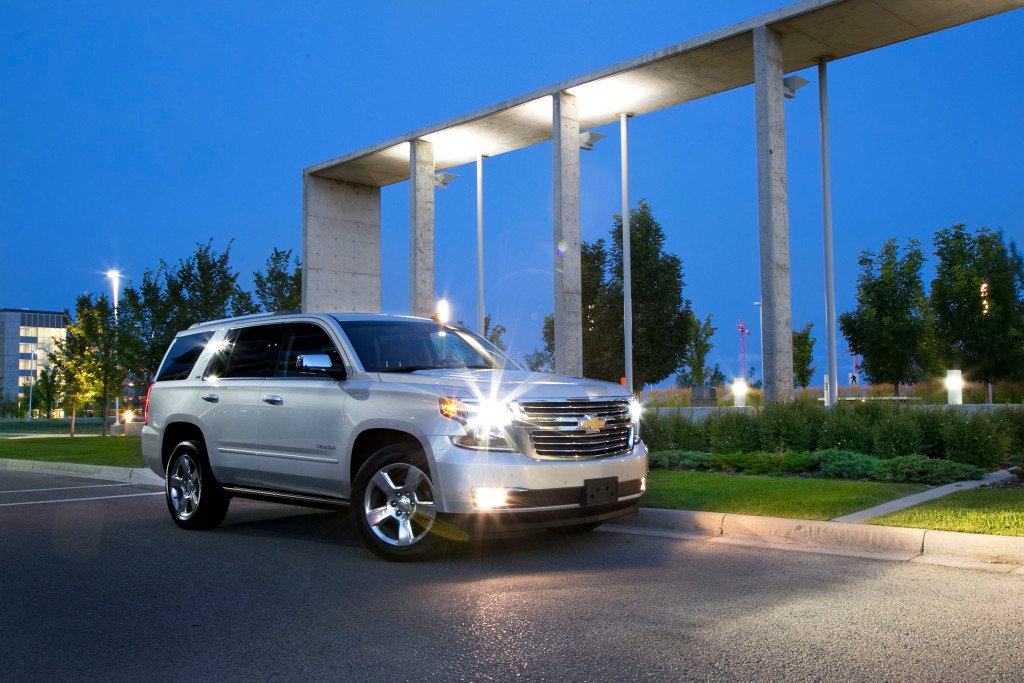 For many of us, there is an Uncle Norm. You know the guy. He's of solid European stock. Runs out at about 6'3" maybe 240 lb. Has hands the size of a Grizzly bear's heed with a heart to match. Can lift his equally large brother above head should the situation warrant. He's physically intimidating, maybe a bit big and brutish but has a refined, civil quality and excellent table manners.
The Tahoe is the Uncle Norm of vehicles.
Inside the Tahoe amenities and finish were top gear excellent. A nice mix of quality soft and hard surfaces, leather seats and a center console capable of holding many chicken, the cat and case of Pilsner (cans) meant comfort issues were not a problem.
Chilled seats were a hemorrhoidical godsend in driving across the Sun's Anvil last month aka. the Medicine Hat heat flats. Yes, air conditioning was all nice and what what, but those adjustable cooling seats in black leather, someone call my proctologist, poppa's gonna be late for dinner!. Nobel Seat Prize for Phil in seat engineering stat.
Interior noise levels were excellent as was the ride on smooth straight highway bits. The Bose hi-fi's ability to consistently find Echo & the Bunnymen continued to amaze me, although the wife did not share my bunnymen enthusiasm.

Steering feel on center felt lighter than the Canyon but overall feedback was positive. Surprisingly, the Tahoe scored big points for parkade maneuverability, although at 6'3" getting into parkades proved a close shave.
The one Uncle Normism design feature that was fitting yet humourous had to be the ginormously large, column mounted shifter. Possibly designed by Louisville Slugger, this big stick attached to GM's popular 6-speed gearbox was clearly meant for a manly man with big man hands.
But even though I'd not I seen a column mounted shifter since the Cuban missile crisis, the placement only made sense given the amount of acreage the center console consumed.
Spatially speaking, with all the seats folded down, and that means rear seats folded electrically up against the front seats, Tahoe owners can accommodate 94.7 cu.ft. of all things IKEA, four chairs from EQ3, half of the cast of Game of Thrones (the Mountain excluded). Headroom, legroom and the like were more than adequate for five Uncle Norms and three Aunt Helens.
Speaking of Aunt Helen's, the automatic retracting sidestep-bars were a welcome addition for the shorter of us. Upon unlocking, the sidesteps dropped down and retracted up almost flush into the Tahoe's underside. Given the SUV's height specs, and with the 4×4 suspension in place, this blingy option seemed a good fit.

The 355 hp V8 was very much welcome in a vehicle of this size, and needed, thanks to the Tahoe's slightly not slight weight of 2,515 kg, or 5,545 lb. Just slightly less than human hairpiece, Donald Trump's ego.
Equipped with Chevy's cylinder deactivation system, the Tahoe managed to pull in respectable mileage numbers on our route from Calgary to Medicine Hat. GM reports 10.1 L/100 km on the highway. We didn't quite manage those figures but combined city and highway results showed the deactivation system worked.
And sporting 382 ft.lb. of torque at 4100 rpm gave the Tahoe the ability to deal with hilly bits and passing with little complaint. Shave another 500 lb of its diet and we'd be doing even better.
The weighty proportions of course mean driving and braking habits need to be adjusted. The brakes, big hefty man dinner plate like things at 13 inches (33 cm) performed commendably well in the city and on highway whence slowing down for near missed turnoffs.
Unsprung weight and big bouncy jouncy 22" tires did result in some reverberatory like feedback into the chassis on certain surfaces. But to be fair, the optional LTZ model Magnetic Ride suspension, did a fine job at handling the unsprung oscillations under most circumstances.
I should mention, our tester was tricked out with the 4×4 drivetrain arrangement, which not only added another 137 lb, but I'm guessing made for a slightly stiffer ride as a result. I'd be interested in driving a Corvette/Stingray just to compare the two…wink wink.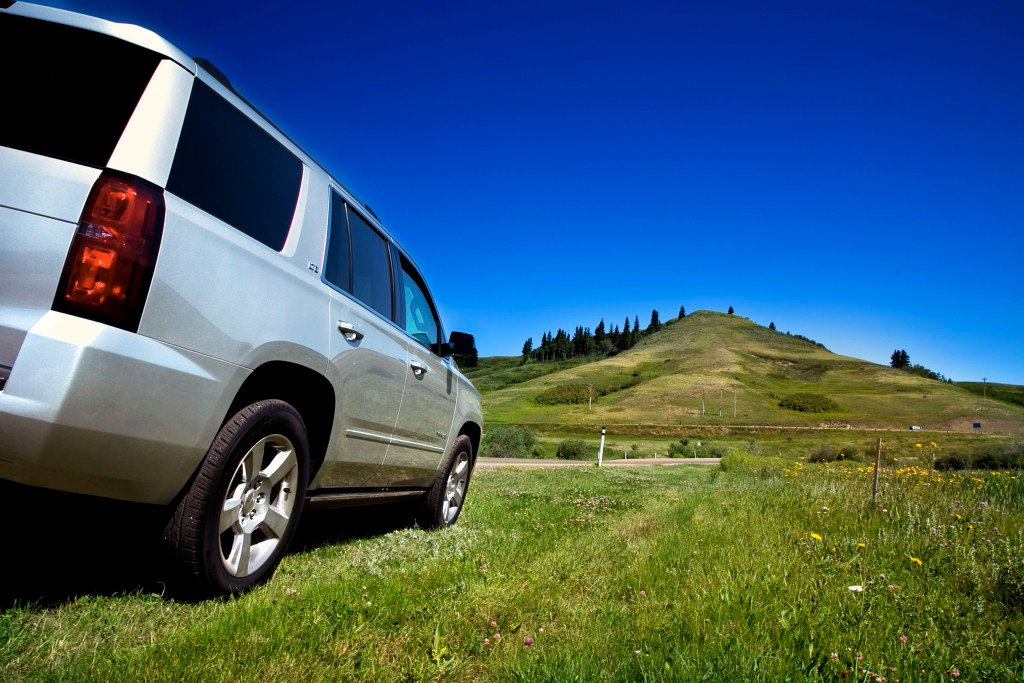 Body roll, lean and handling scored decent points, thanks again in part to the Magnetic dampers and 36 mm/28 mm stabilizer bars. At just under Uncle Norm height at 6.2 feet tall, the Tahoe has more than enough verticality at play to present serious tippy problems if not properly addressed in the underpinnings.
Keeping the people safe and awake, the Tahoe was chock full of the most current safety amenities. Safety bits like lane departure seat buzzers that would buzz right or left cheeks depending on which side of the road you were leaving.
Beyond the myriad of airbags hidden throughout were useful things like GM's StabiliTrak, an Electronic Stability Control System, Proactive Roll Avoidance, traction control, electronic Trailer Sway Control and Hill Start Assist. It's the things like Roll Avoidance and Stabilitrak that would provide me the warm fuzzys come a trip to Edmonton in a signature January blizzard.
On the style front, the Tahoe is all about the big open spaces and far reaching linear lines. At a tick over 17 ft long (5.2 m) and 6.7 ft wide (2.1 m) the Tahoe is indeed a lengthy visual piece but thanks to a high waist line and nicely proportioned/angular windows, it comes off as expansive but fittingly so.
I actually prefer its design elemente's and styling cues versus that of its corp-counterpart, the Escalade. Less blingy, more SWAT team-esque. In front of the Canon, the Tahoe showed itself quite adept at making photogenic for the camera. (see that gallery)
Priced out at about CDN$52,000 Chevy's luxo-utilitarian Tahoe gets good marks for being a capable, stylish, full-sized SUV that as the marketing speak speaks, "is great for a weekend at Cypress Hills or for a quick stop at the office for a quick presentation." They forgot to mention, that Uncle Norm's inspired Tahoe was also ideal for significantly reducing Southern Alberta's grasshopper population while remaining gentlemanly in its demeanour.
Impromptu Restaurant Review/Recommendation:
When you're in Cypress Hills in the Elkwater region, make sure you check out the Elkwater Landing Restaurant. The outdoor smokers located on the backside of the space, the near perfect cucumber Hendricks gin tonics and the ribs are out bloody standing. Portions are huge so save room for more gin tonics and desert. The Mac & Cheese concoction on the other hand, wasn't so great. Too many ingredients that overpower the simplicity of a good Mac Cheese and the texture was offputting.
I tried to link out to the website but it wasn't working. Googs it yourself. The restaurant is located on the west side of Elkwater, next to the Interpretive center.
Source: GM Canada