I AM SUPERCAR…McLaren's 986 hp P1-GTR vs Ford's naughty 600 hp GT vs Acura's 550 hp hybrid NSX
Copy. Angus MacKenzie
Do you want to go faster?? This past week the automotive world released upon us some seriously toasty supercars. First there was the carbon fiber equivalent of auto-pornogaphy, turned up to 11, when the sneaky bastards at Ford unveiled the new 600 hp GT. Then not to be outdone, Acura and some guy named Seinfeld helped unveil the not really new Acura NSX. And then, the kids with the Englander accents thought they'd turn their P1 up to eleven. So they did and unveiled more details and pretty Kodaks of the 986 hp track-only P1 GTR. Here's my take and details on the trio of super go-fast devices.
I'll need a cheque for $3,000,000 and registration from your current P1, thanks
At just over $3,000,000 McLaren's latest track-only attack device is the opposite of cheap. Or acquirable. Or street legal. Or practical. Or affordable. But aside from those minor barriers, if you're one of the 375 current P1 owners then maybe you'll be lucky enough to add the new P1 GTR to your Dubai auto shed.
Boasting a retarded 986 hybrid-horsepowers, the race ready P1 GTR first showed its face on the concept lawn at Pebble Beach's Concours du Elegant last August. I did get close enough to lick the carbon fiber chin spoiler, so I can attest to its genuine tracky, carbony goodness flavouring.
According to the kids from Woking, Surrey in the UK, the P1 tracker jack has "in excess of 700 PS per tonne power-to-weight ratio." That's 10 percent less than the stock P1's twin-turbo V8 and electric input systems. These impressive figures, which mean little on your Android device, translate into a car that is likely capable of hitting light speeds in the negative second range.
In addition to the tweaked drivetrain, because the road-ready P1 wasn't enough, McLaren has stripped the car of any excess weight and optimized the poop out of the gassy-electric powertrain. TopGear guesses they'll be limiting production of the new P1 to around 30 cars.
Optimizational results have been achieved via thousands of kilometers of extreme testing at UK and European tracks. To see how the car fairs in the heat McLaren took the car to the sun's anvil and threw it about some very toasty road surfaces in Bahrain and Qatar. These tests are designed to flush out the car's cooling and aerodynamics at limit and expose any weaknesses or flaws that only reveal themselves under extreme testing conditions.
The P1 GTR's development program will continue over the coming months until the $3 million track toy makes its formal debut at the Geneva Auto Show in March. The car will reportedly start shipping for delivery later in the year. Catch the video to see the thing sitting in a garage.
Source & Images: McLaren
[divider color="blue" type="solid" width="100%" height="1px" float="left"][/divider]
GUARANTEED TO TILT McGREGOR'S KILT, IT'S FORD'S NEW 600 HP GT!
In 1965 Ford unleashed a trio of untested GT40s on the fun spoiling Italians from Ferrari at the 24 Hours of LeMans. Little did Enzo realize but Ford's new 40 inch race changer would not only embarrass him at the 1965 LeMans with a 1-2-3 finish but would go on to repeat the embarrassment with wins again in 1966, 67, 68 and 1969.
Last week in frozen broken Detroit however, Ford pulled off one of the greatest top secret supercar hidings of all time by unveiling the new internet-breaking GT. The successor to the GT40 and early 2000's GT this new supercar was a complete and utter surprise to everyone in the media right up until its cloak came off. Were there a course on how to keep auto reveals quiet then I'd suggest Ford get up on that and start offering it as a night course.
Like the GT40 the new GT is damn fine looking from most every angle. Even though Ford has clearly borrowed some roofline elements from the Lotus Evora and hexagonal angly bits from Lamborghini, the car is still a crisp, bitey, dynamic piece of automotive design.
Sporting what Ford claims is their most powerful EcoBoost production engine ever, a 600 hp twin-turbo V6, they claims the car will be ready to race at LeMans in due time. Available in 2016-17 to help celebrate the 50th Anniversary of Ford's LeMan's the new GT sports some seriously funky aggressive design aspects.
For instance, out the back, those holes in the taillights, they're supposedly there to blow off wastegate pressures from the duplo-turbochargers. And like most all supercars today the GT uses extensive amounts of carbon fiber and aluminum throughout the build. Like McLaren and Lamborghini, Ford has anchored the GT's aluminum front and rear subframes (encapsulated in structural carbon fiber body panels) to a carbon fiber passenger cell.
But unlike the head removing doors of the original GT40 Ford has instead gone with a more conventional dihedral design. The car still spouts the original snorkel nose intake elements up front and sleak proportions but it's that winged opening between the cabin and rear haunches that really gets my kilt tilting. Like who does that? Who narrows in the cockpit in order to provide a massive aerodynamic opening running clear out the backside? The car also features active aerodynamics throughout to enhance performance at speed whereas the rear spoiler looks to pull a McLaren and react and deploy based on driver inputs and speed.
And if you listened close enough, when the car spun around on the turnstile and showed its hindquarters, you'd swear you could hear the faint sound of middle aged media men's Dockers growing. With that tapered-in engine bay, twin exhaust tips with sniper markers and taillights that glow molten lava, the GT's backside deserves a Nobel Peace Prize for making me think dirty thoughts on a Sunday.
Under the clear canopy the GT features an all-new, "port/direct dual fuel-injection setup to improve engine response, plus a low-friction roller-finger-follower valvetrain." The 3.5 liter EcoBoost V6 which Ford used in the IMSA TUDOR United SportsCar Championship series for three wins and a win at the 12 Hours of Sebring, will be paired with a 7-speed dual-clutch transaxle.
The GT's chassis features an active racing-style torsion bar, F1 styled pushrod suspension and adjustable height controls. The big chunky 20 inch wheels be shod with Michelin's Pilot Super Sport Cup 2 tires. These bespoke rubbers hold within them a unique compound and structure specifically designed for the GT. Carbon-ceramic brake discs reside on all four corners to ensure stopability and deceleration are inline with the car's performance ideals.
And finally inside the carbon saturated cockpit, Ford has set aside an F1-style steering wheel. The setup that integrates all the required driver controls translates into a stalkless steering column and thus, clear access to the paddle-shifters.
And like the GT40 of old, seating is fixed. However, Ford has instead made the pedals and steering column adjustable in order to accommodate a range of lucky bastards of varying height.
No sure on pricing but I'm personally hoping for the US$150,000 – $200,000 mark. Big props…like big props and major kudos out to Ford's design and development team on this latest LeMans incarnation.
Source: Ford
[divider color="blue" type="solid" width="100%" height="1px" float="left"][/divider]
BETTER LATE THAN NEVER; ACURA'S 550 bhp HYBRID NSX ARRIVES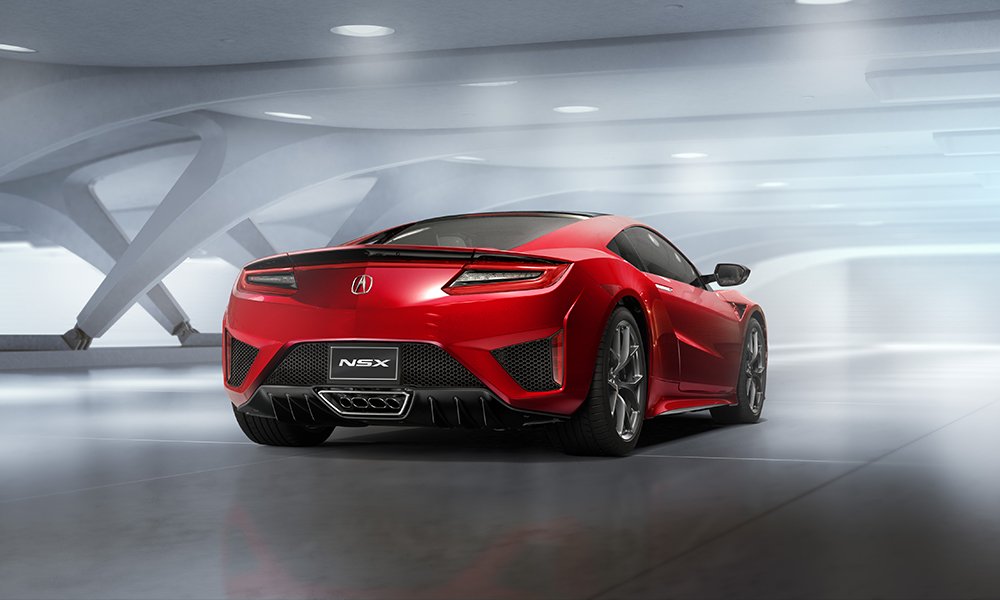 If Ayrton Senna owned a few, it must have been good. The original Honda/Acura NSX from the early 90's was one of the first mainstream supercars from the company. Manufactured in Japan from 1990 – 2005, the rear-engined V6 powered NSX was the first car from Honda to feature an all-aluminum body and forward thinking styling. Unless you count the Civic who's styling hasn't changed in 400 years.
Jump ahead 23 years to 2013 and we find Acura showing off the next-gen NSX on the concept lawn at Pebble Beach. Jay Leno is fighting Seinfeld over who gets the first one on television. Everyone is excited. 2014 comes and goes and nothing but sedans, but no NSX. Then last week at the Detroit Auto Show, Acura finally unveils the NSX to mark the 25th Anniversary of the original. Better late than never.
Unfortunately the NSX's limelight was just slightly overshadowed by the Ford GT. But let's not dwell. Only one car in this crowd runs a non-hybrid setup, and the NSX isn't it. Capable of developing what Acura claims will easily be over 550 bhp via a twin-turbocharged V6 and hybrid sources, the new 2016 NSX uses a dry sump lubed engine, with 75 degree architecture and a gearbox encasing 9 gears.
To fit the new longitudinally mounted engine and gearbox into the NSX, Acura had to stretch the production vehicle out. When compared to the NSX Concept of 2012, three inches were added to its length and an inch was added to its width to fit the new drivetrain.
Now that 550 bhp (brake horsepower) isn't provided by the gassy engine alone. No sir. Acura has seen to it to attach one electric motor to the rear axle and another two up front, one on each wheel. We shall have to wait perhaps another two years before Acura divulges the exact power split figures between the four power sources. Acura is also keeping performance figures a secret, because why would buyers want specs from a tiny event like the Detroit Auto Show.
We can however tell you that Acura has named the car's new all-wheel-drive system the 'Super-Handling All-Wheel Drive' or SH-AWD. Acura has been producing cars with its AWD system for a while, so this isn't their first shot at this, but what is new is the 'Agile Handling Assist' thing. In order to enhance cornering and give the car quicker turning capabilities the AHA system applies the brake on the inside front wheels. This in effect allows the car to pivot around that wheel and as a result should give it a slingshot advantage.
Chassis composure and drivability are adjustable thanks to Acura's 'Integrated Dynamic System.' The 4-mode dial which surrounds the push-button ignition allows the driver to change the car's engine response, suspension forgiveness and inputs via the console mounted device. A fully independent, all-aluminum suspension helps to keep the car in form and unsprung weights down while 19-inch rubbers up front and 20-inch tires out back keep it on track.
From the outside the NSX looks nothing like its predecessor. The car now has those taught, compact dynamic features we're used to seeing on the Huracan, McLaren and Nissan Versa. The car's body, like the others, is composed of a mix of aluminum and high-strength steel wrapped tightly around a carbon fiber floor. Unlike McLaren and Lamborghini, who specialize in carbon fiber kink, Acura had to develop new production methods to stick all this lightweight goodness together.
Stylistically, the car has fast aspects all over. The original NSX apparently had design influences from an F-16 fighter jet, however in the new car hints of Ferrari 458, Camaro and Audi R8 appear in the design. The next-gen model still manages to retain its own place in the pack. The nose, grille and 73 headlights do come across as overdesigned and busy, but not completely out of place with the rest of the car.
According to Acura the side intakes and floating C-pillars help direct air to mid-mounted V6. Aerodynamics and downforce are enhanced as air is also redirected out and over the rear deck thanks to that subtle opening between the cabin and C-pillar.
Pricing for the car is relatively cheap compared to its competition. The 2016 NSX is expected to cost about US$150,000 when it goes on sale this summer, that's winter in Australia and New Zealand. Relative to a Huracan with 610 hp at $200K+ or a McLaren's 650S in the same range or select German rides, the NSX could prove to be a bargain sleeper when it hits the markets later this year.
Source. Acura