Ford's 365 hp AWD 2016 Flex flexes its utilitarian muscles
Verbology + S6 Photos. Angus MacKenzie
At $58,000 CDN the 2016 Ford Flex isn't exactly a cheap station wagon. It's not an SUV / Not a wagon / Not a Suburban Yukon Navigator replacement. So then what is it.
Well to drive it, one would mistake it for a sportier Euro SUV. Thanks to the lower center of gravity, and wide-ish planted stance, as compared to similar SUVs, the 2016 Flex behaves like an enigmatic wagon…of sorts.
Liveried/coloured out in a funky "Too Good To Be Blue" paint scheme, the 2016 multi-windowed Flex running on 20″ polished aluminum wheels, felt good on the twisty bits out west of Bragg Creek. Sporting Ford's jaunty 3.5 litre twin-turbocharged Eco-boosted V6, Flex's AWD system gripped the roadway like a vehicle a mere half its size.
A forged crank attached to aluminum pistons, under an aluminum intake manifold and 10.0:1 compression ratio all works in spinny conformity/unity to develop 365 hp @5500 rpm and 350 ft.lb of torques at a pleasing 3500 rpm. Spin up from the twin scrollers, always a thing of goodness from these Ford Eco-boost power bits. Mid-range power and climbing ability in the Foothills was more than plentiful enough to escape the slightly flustered cattle east of Elbow Falls.
The AWD system plays out nicely for a vehicle measuring .00317 miles in length (201.8 in / 5.1 m/ 16.75 ft) in length. Which when viewed on profile, actually looks bigger in person. But the AWD system did a bang up job of pulling and pushing the Flex's big chassis about when called upon. The 6-speed autobox, nicely matched with the police painted wagon. This in spite of the portly 4,828 lb (2190 kg) weight figure. That it can legitimately hold 7 persons , or 73 Salty Chihuahuas, ensures it lives up to its tagline of utility vehicle.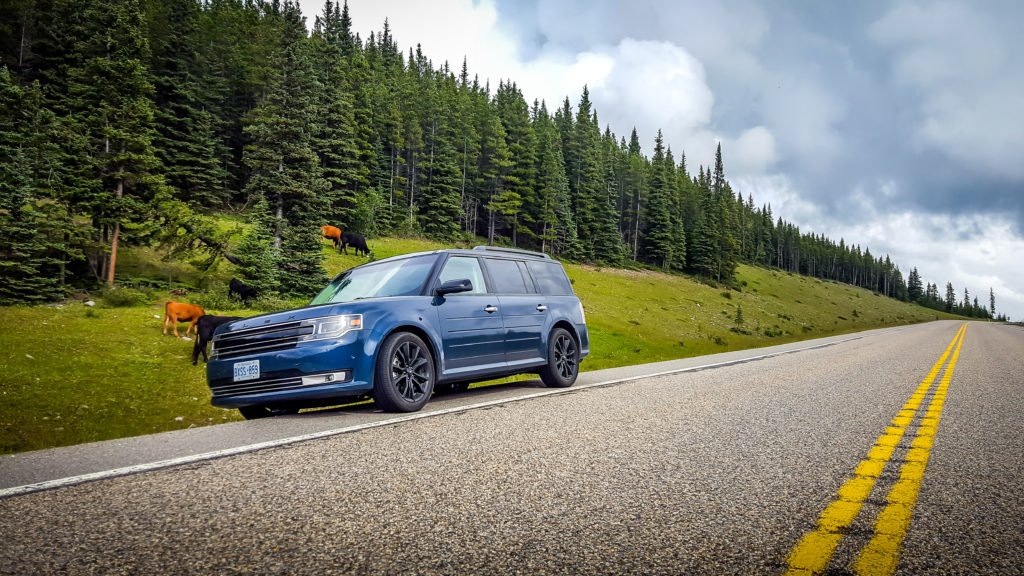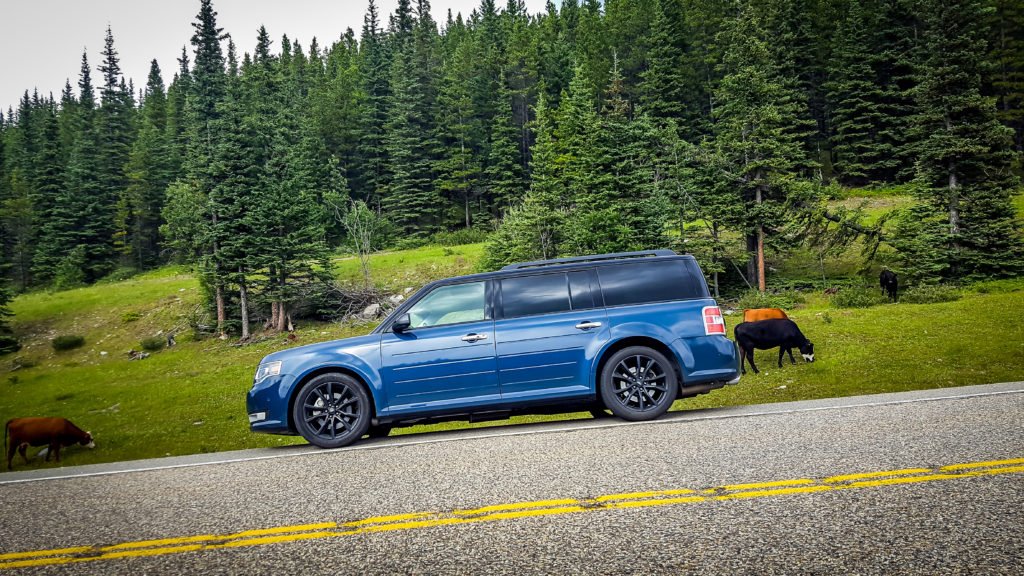 Storage capacity is Pat Pegged at a hefty 175.8 cu.ft for interior volume and 83.2 cu.ft of cargo capacity behind the first row. Unfortunately I lost my interior images in an industrial accident, so I encourage readers to visit Ford's professionally shot gallery here.
There is talk of discontinuing the Flex, which I think would be a shame. The SUWagon like device stands out in the blah blah bland SUV crowd like a breath of fresh retrofied air. The Flex's styling is of the polarizing variety. Subtle tweaks on what is clearly a utilitarian design base disenfranchise a lot of people. Other persons who know better, like myself, appreciate the flat panel narrative, long stretchy proportions, ample overhangs and simplistic clean lines.
I give the 2016 flexy Flex 8.5 out of 10.0 haggis. If you're wanting to stay away from the tiredness of the SUV line then I'd highly suggest taking one of these for spin. I would seriously recommend the AWD version mated to the twin-scrolly 365 hp V6 for burnouts and winter appointments. Base model starts at $29,982 CDN.
Cheers
Source: Ford Canada