2015 LEXUS RC F = Ready Ctrl Fast
Photos + Verbage: Angus MacKenzie
Lexus' newest 2-door fast runner, the RC F Coupe, speaks the corp's new design language but also features a number of stylistic facets not normally found on a Lexus. Yes there's the big mechano-mouthed, Whale Shark grille that polarizes the most polar of bears. But on this car, the over exaggerated grille actually makes sense given the rest of the car is one angular, intersecting line after another. Kind of a photographer's car this, and with room for four, it translates perfectly into a practical camera equipment transportation vehicle.
Sporting a forward mounted 32 valved DOHC, with Direct Injection and variable valve timing, the 5.0 liter V8 good for 467 hp. The horsepowere are directed to the rear portion of the car where an Active Torque Ctrl System, LSD rear end and something called Sport Vehicle Dynamics Integrated Mgmt (c'mon you guys) decides best how to handle power to the roadway. Paperwork puts the torque figure at 389 lb.ft which isn't bad considering the car comes in at a kind of porky 3,958 lb (1795 kg). That is not light for a sports car of this calibre in my humble opinion.
C&D says on the track the RC F is good for a 0-60 mph (96 km/h) time of 4.3 seconds. Respectable but not good enough to keep up with Beemer's M4. C&D also complains about the car's 4,000 lb plus weight and how it isn't any faster than the old IS F. Disappointing but with a top speed of 171 mph (720 km/h?) and the ability to throw down a sticky .95 g's on the skidpad means they've done more than a few things right.
Lexus' refined and delightful 8-speed transmission gets the power to the wheels in the most appropriate manner possible. This is accomplished via Playstation Paddle Shifters or via the wicken designed autobox. I've not driven the car but the gearbox in previous Lexi' I've driven have not been disappointing. Braking bits are handled by 'Larger Diameter Front Ventilated Discs' and rear vented disc brake things. The calipers, rotors and pads are courtesy of some company called BREMBO.
On the website, Lexus promotionally/hyberbolically asks "If they've gone too Far." Like that Bridge over the River Kwai too far or Zach Galifanakis drunk in Hangover II too far? Personally, I think they went just far enough. The design language reeks of the concept car that made the rounds at the NYC Auto Show and Pebble Beach last year. Stylistically the RC F is what you get when you tell a Lexus designer to design the exact opposite of a Corolla. And unlike other mfc's who at times tend to borrow and imitate others, the RC F presents as a relatively original design.
The car should come with a warning for people on blood thinners to avoid the RC F's multitude of sharp intersecting lines and angular movements. The car should come with a warning for people on blood thinners to avoid the RC F's many sharp intersecting lines and angular movements. The hood is one big power hump that drops off suddenly at the gaping, hexagonal hole of an intake place. I should take back some of that not imitation thing…that vertical vent aft of the front wheels does have some Subaru STI in it and the roofline might have just a hint of BMW 6-series…and there might be some Nissan GT-R. Otherwise, the car holds its own stylistically.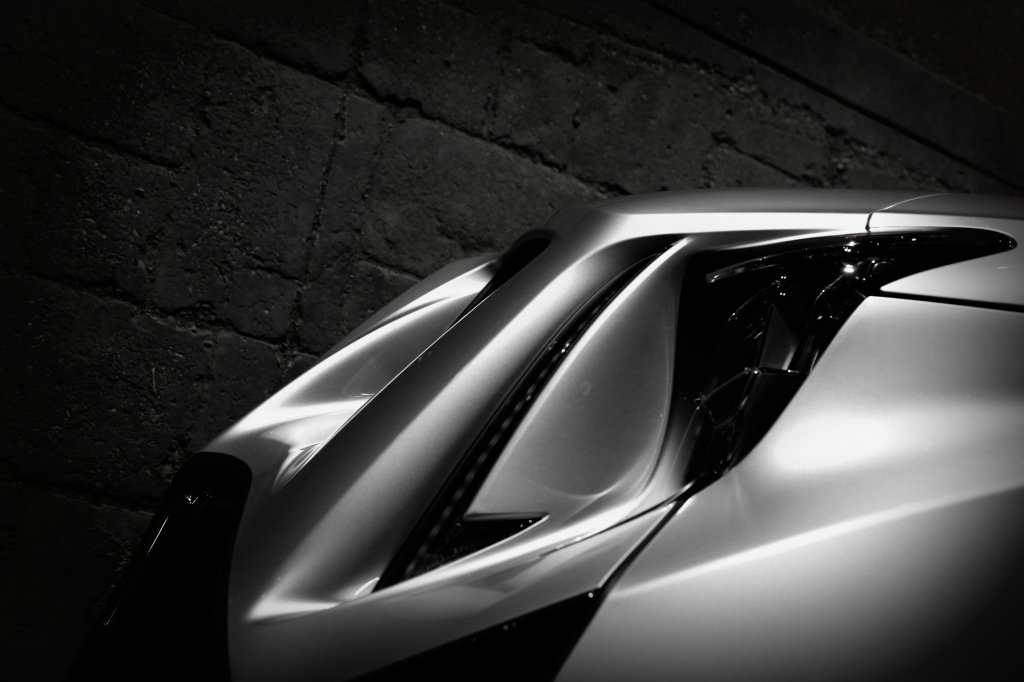 Proportionally the car comes together nicely overall, whereas stlying flow and rhythm are interrupted by punchy haunches, oversized intake points and one busy rear end. My ADD addled brain likes that! People with quieter tastes might not appreciate the stylized excess quite as much.
An optional Performance Pkg is also available. The PP gets you a Torque Vectoring Differential (TVD), Carbon Fibre Roof, Carbon Fibre Active Rear Spoiler and 19″ Forged Aluminum Wheels.
The Righteous Coupe Fast presents itself with a starting price of $81,650 Canadian. The PerfPackage brings the price up another $8k to roughly $89,000. Leasing that car will cost you $1,594 per month with a residual buyout of $37,401 after four years, whereas financing will run your debit card back $1,940 / month on a five year plan.
Source: Lexus