Ford's revised Explorer Ltd for 2016 – not the trackpack edition.
Photos/Words: Angus MacKenzie & Ford Motor Co.
Before SUVs were SUVs there was the Explorer. The Explorer and the Suburban…and the Land Rover…and Volkswagen had that microbus. But for over 25 years the Explorer has remained one of Ford's most enduring marques.
Now for 2016 Ford has rejigged and retweaked its Explorer yet again. This time in Limited Edition trim the new inner-city soccer mom special brings with it a new body, turbocharged 2.3 liter EcoBoost engine, revised safety bits and retuned suspension components.
Putin out 280 hp and 310 ft.lb of torque the turbocharged, direct injected Ti-VCT Ecoboost I-4 provides enough juice to move the about relatively easily, but its size becomes noticeable whence the turbo goes offline. However, in terms of mileage vs power the resulting compromise seems a reasonable one.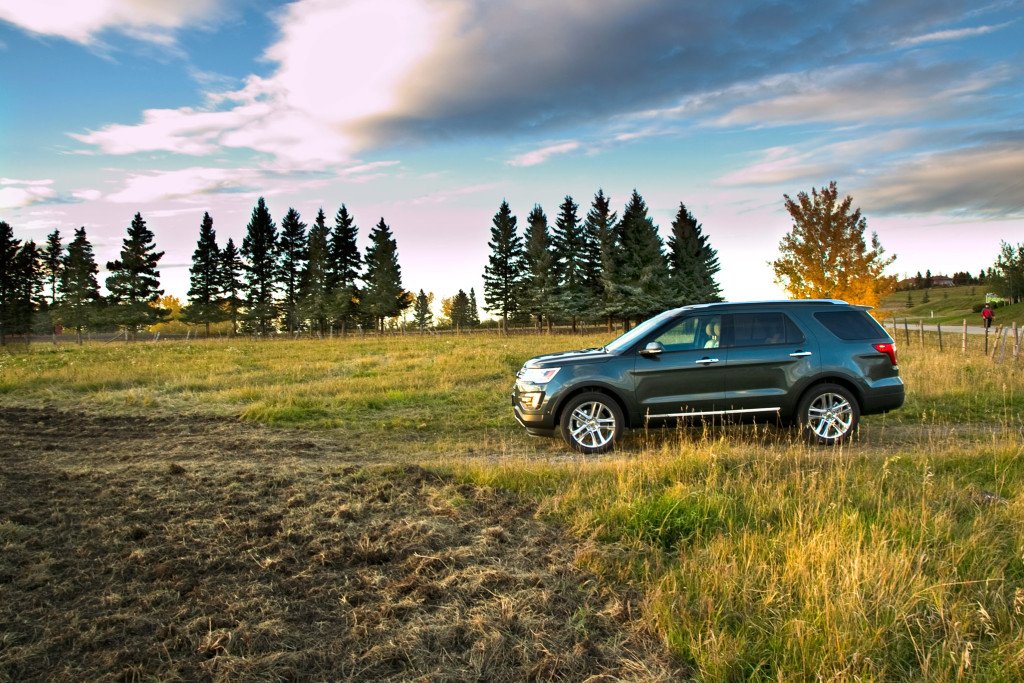 The 2.3L Ecoboost 4 is one of the three engine offerings for the lineup. A base 3.5L naturally aspirated V6 with 290 hp @ 6500 rpm and 255 ft.lb. of torque at 4000 rpm is available. The track version…there's no track version…the quickest version of the Explorer come outfitted with a twin-scrolly 3.5L V6 that's good for 365 hp @5500 rpm and 350 ft.lb. of torques at 3500 rpm.
It should be noted that the 2.3L Ecoboost in our tester has its 310 footy pounds of torques coming online at a low 2500-4000 rpm. This gives the SUV a 55 ft.lb. advantage over the base engine V6 in a more usable rev range. Towing capacity for the 2.3 liter boosted eco suffers with a maximum loaded trailer weight of only 908 kg (2000 lb) as compared to the 2267 kg (5000 lb) capacity of both the turbo and non-turbo V6 powerplants.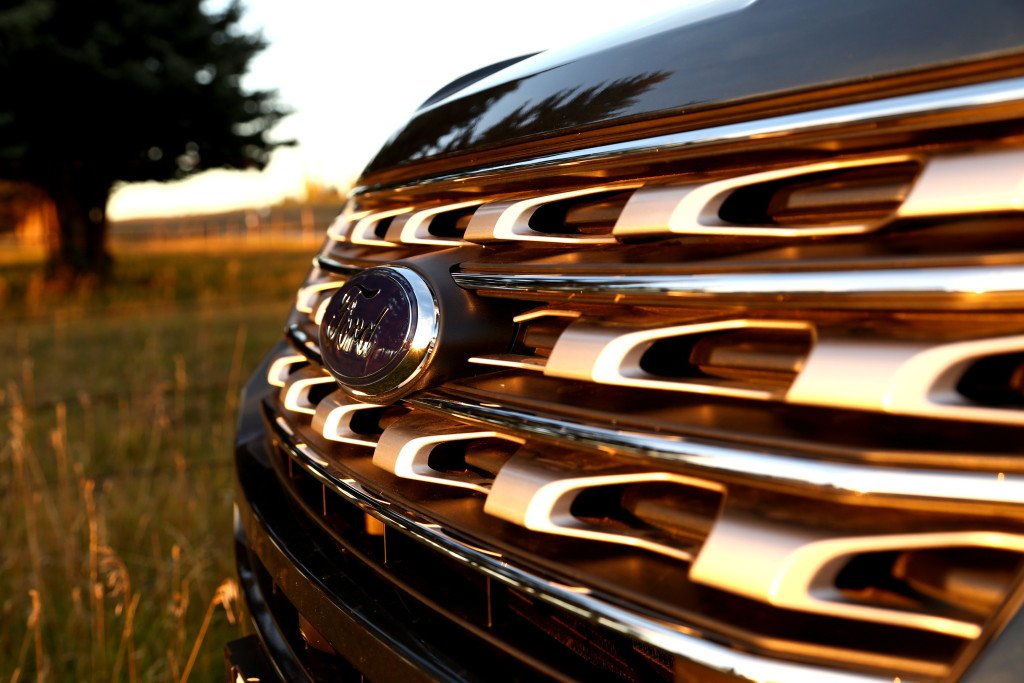 At 2015 kg (4442 lb) and just over 5 meters in length the Explorer isn't small or light but it is an SUV so whatever. Standing 1.8 m tall (71 in) it fit into underground parkades with inches to spare. Interior spatial dimensions and cargo volumes with all seats down, equated out to something like 2300 liters…which I think is a lot.
And for those valve lifter groupies, all models run 'direct acting mechanical bucket' lifters to manage the valve uppy downy stuff. Mileage is reported to be a not bad 10.8 L/100 km. Our mileage differed slightly on the higher side.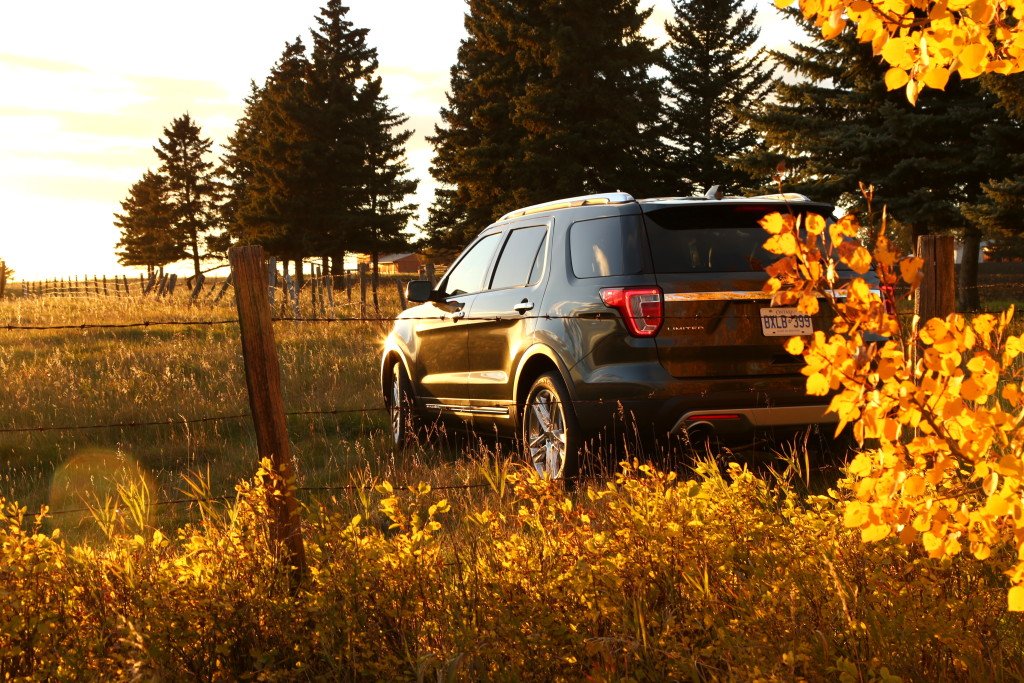 All three come standard with Ford's pretty decent 6-speed SelectShift gearbox. Front wheel drive is the standard format for the std V6 and Ecoboosted 2.3 whereas the "performance" package comes standard with Intelligent 4WD.
Suspension setup for the entire line becomes the responsibility of some Scot named McPherson. Front bouncey bouncey control is Scottish struts with gassy pressurized hydraulic shocking absorbers. Farther south in the back forty, the Explorer gets treated to a multi-link independent setup with a slightly smaller stabilizer bar than the front.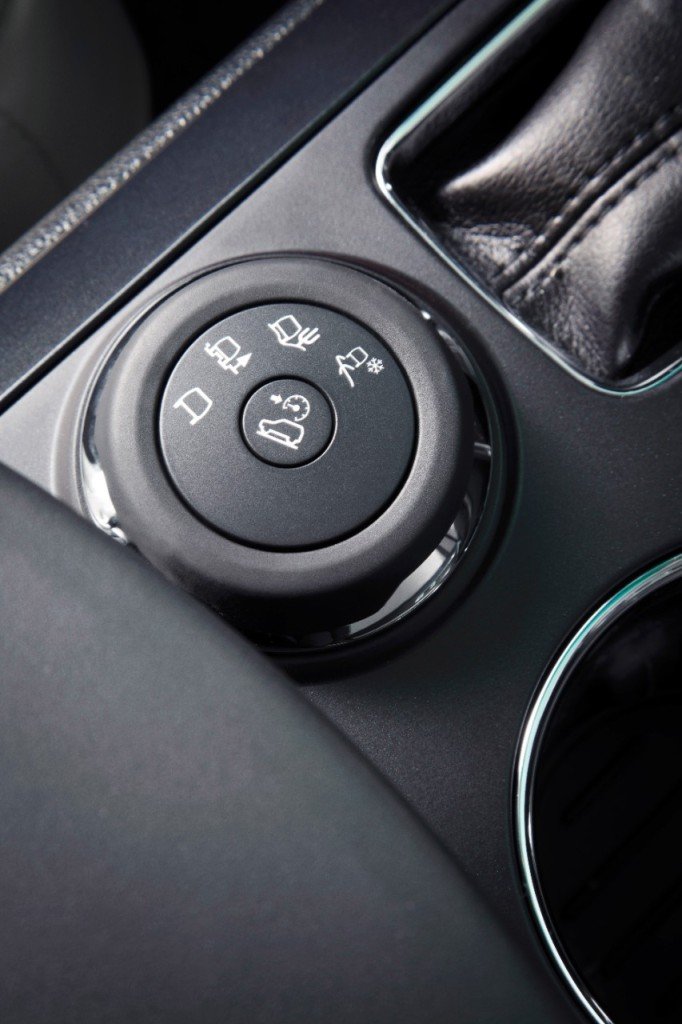 Steering is electronic power assist which felt nicely dialed in for both parking lot putt putt bits, 60 km/h sections and 125 km/h highway sections. The suspension delivered a smooth ride in most all scenarios and handled jumbly bits with confidence, keeping the majority of feedback out of the cabin.
Explorer Ltd inside, very nice. Good marks for keeping it clean and comfortable yet contemporary and clean. Ergonomically Ford has done a fine job at putting stuff where it belongs. Ford's typographical choices for display and ease of use, very good that.
The weather and road conditions were good during my drive so I didn't get a chance to test the 4×4 system. But the various drive-mode offerings should suffice in getting persons safely thru most zombie apocalyptic scenarios.
Outside the Explorer LTD had some positive visual elementes going for it. The slightly raked grille gave the impression of a Range Rover/Edge influence. The lower marker lights get special marks for their presentation. On profile, it's kind of meh, but in 3/4 view the proportions seem to flesh out better. The big C-pillar breaks up the cabin space's extensive distance while the blacked-out D-pillar does a fine job at tricking the eye.
Our tester, priced out at $57,589 CDN is no cheap but reasonable when compared the euro offerings. The base model, sans optional Ecoboost engine, dual panel moonroof, adaptive cruise ctrl, active park assist, lane departing stuff, Stevie Wonder monitoring system, rain sensing wipers, etc came out to $47,799 CDN.
In terms of build, comfort and ride, Ford's reworked Explorer LTD presented as good value for the pesos. Although more power would've been nice but the wife noted it one of the most comfortable SUVs to date. Personally I'd spend the extra pesos and go for the 365 hp trackpack version.
Source: Ford Canada