Expediting volumes of anything, anywhere, Ford's 2020 Expedition (Exhibition) makes a case for the big
Words/Photography. Angus MacKenzie
In the world of large transport, Ford's 2020 Expedition ranks up there with the best of them. Handsome, blue, with voluminous corridors for small children to play, and a roofline that defies most all underground parkades this cousin to the Navigator provides seating room for eight, a smooth smooth "who's your daddy" ride, power and torques for serious towing, and an interior that says "I'm stylishly utilitarian".
Shot most entirely on Samsung's Galaxy S10 mobile device (because DSLR's are so 2019) here is a photo-feature reinforcing the above notes.
Technical notes. The 2020 Ford Expedition King Ranch as shown, starts at $79,000 CAD. It's intelligent 4-wheel-drive system is hooked up to a 10-speed gearbox which in turn is powered by Twin independent Variable Camshaft Timing (Ti-VCT) 3.5 L twin-turbo Ecoboost V6.
Good for 375 hp @5000 rpm, and a torques of 470 ft.lb @3500 rpm, the V6 delivers excellent pulling power up city hills and when lugging 35 lb children about to requested ice cream parlours or bespoke toy outlets.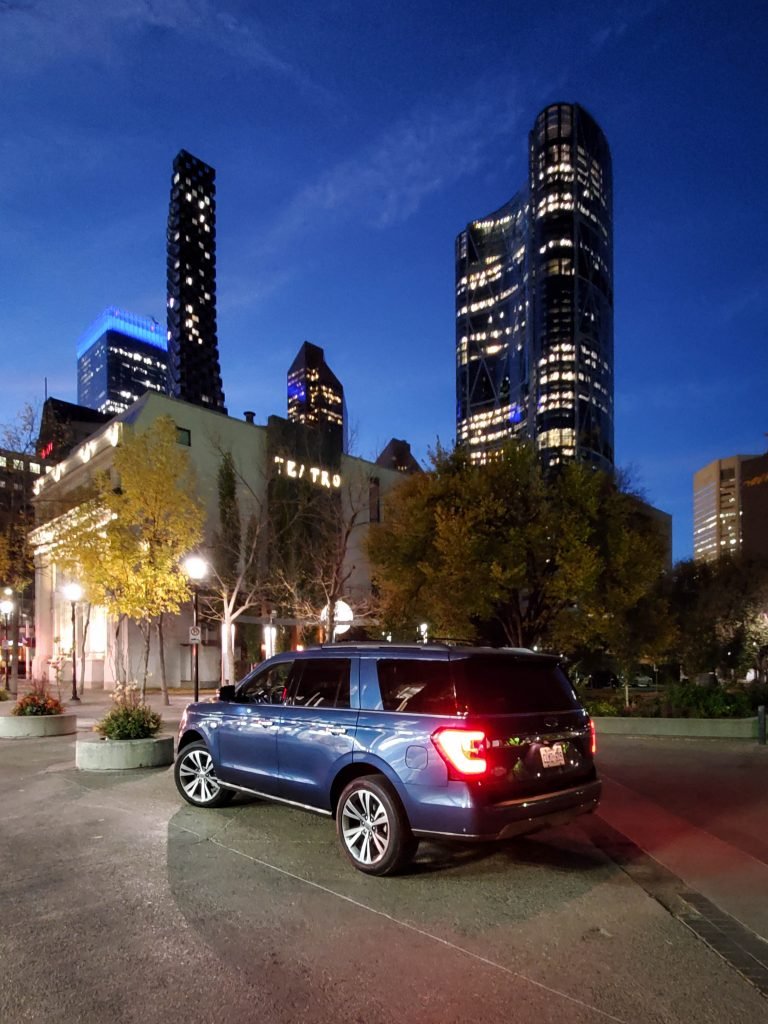 Tipping the big boy scales at a Jenny Craig cringing 2628 kilos or 5700 American pounds, the exhibitionistic Expedition stands a 1.936m or 76.22 inches or 6.35 ft. Thankfully, Ford has provided electronic walkup steps to ingress and egress the vehicle. At a tick over 18.48 feet long (5.635m) inner-city parking in smaller driveways is not encouraged, but then most Expedition buyers will reside in more upscale, fitting homes.
Passenger volume of 4871 litres in total, with 2253 L of that behind the 2nd row (seat forward) means there's no shortage of legroom, headroom or shoulder room for Thanksgiving turkeys or actual persons.
To learn more head over to Ford Canada's website for complete build-outs , pro-photography and pricing.
Source. Ford Canada